If you purchase through links on this site, I may earn a commission at no extra cost to you. As an Amazon Associate I earn from qualifying purchases.
While researching things to do in Vilnius I found little in the way of blog posts or newspaper articles about the city which is one of the reasons I believed it was going to be the least interesting of the Baltic States' capitals.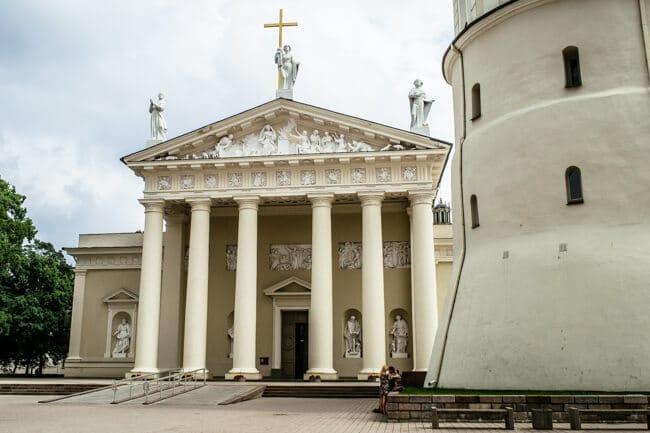 Once again my preconceptions were proved wrong.
Things To Do in Vilnius
Vilnius is a pretty city with (seemingly) more going on than neighbouring Riga and it's worth spending at least a few days or more if you want to include a day trip to Trakai.
UNESCO Old Town
The historic centre of Vilnius has cobblestone streets lined with buildings from almost all architectural styles and I was surprised to discover it's one of the most beautiful Old Towns in the East of Europe.
There are huge squares, cute narrow laneways and too many churches to count.
The diversity of architecture and its influence on the rest of the region saw the city achieve UNESCO status.
You can wander through the streets for hours or go cafe hopping to enjoy the city slowly.
Cathedral Square
The big open square at the end of Gedimino Prospektas is the heart of Vilnius where you'll spot friends meeting up and tourists taking endless pics of Vilnius Cathedral.
Gates of Dawn
Looking down on the people from the Gates of Dawn is the elaborate shrine and painting of the Virgin Mary. People around the world still believe in its miracle-working powers and the local Catholics cross themselves before passing through the gate.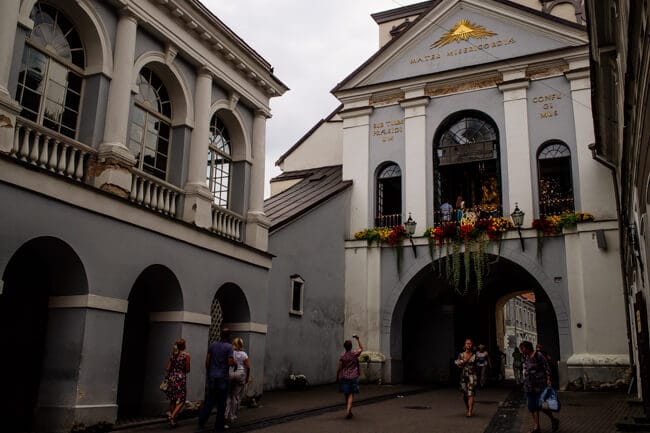 Bernardine Gardens
The recently restored Bernardine Gardens is packed with pretty flower displays in the warmer months and is the perfect spot to enjoy a picnic lunch on a park bench or for some people watching.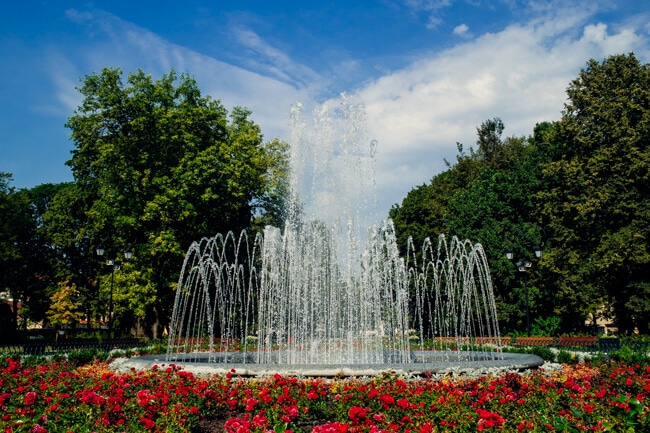 The Riverbank
The riverbank is where the locals like to go after work. They'll most likely be drinking (a lot) with friends or running along the waterfront footpath. I suggest leaving some time to walk along the river for as far as you can manage.
More things to do and see:
Užupis – the hipster quarter in Vilnius and a self-declared independent republic with its own flag, currency, president and constitution. Their independence day, Užupis Day falls on the 1st of April.
Museum of Genocide Victims – particularly interesting if you're curious about the Soviet occupation and the atrocities of that period.
Gedimino Tower – for views over the city.
St Anne's Church – the unusual brick Gothic church.
Even though I visited Vilnius in August when many Lithuanians are on holiday, the cafes were still busy and there were a few festivals going on. You can see all the current events and festivals here.
A Day Trip to Trakai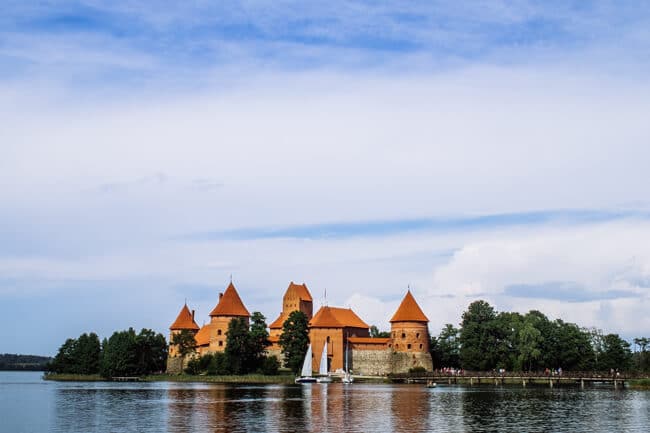 Peaceful lakes and a pretty red brick castle are what draw the crowds to Trakai.
While it was easily the most touristy destination I visited in Lithuania at the same time it was the most serene (just stay away from the tour groups).
Try the kybyns a kind of meat or vegetable pie introduced to Trakai by the Karaites, a minority group who originated from Crimea.
While in Vilnius we met up with fellow travel blogger Ele who introduced us to the city and more importantly put us on to the best Lithuanian cheeses.
She works as a private tour guide in Vilnius and Kaunas and happily showed us some of the highlights of her home town plus I got to pry her for information on the Soviet occupation, something I'm fascinated by.
I highly recommend her guide services if you want to discover more of Vilnius, especially if you're interested in history or quirky, off the beaten path things to do.
Where to Stay
For a short stay, I recommend the Artagonist Art Hotel for its location, lovely design and its sustainability measures.
If you're staying a bit longer, there are many beautiful apartments in Vilnius such as the Rooma Apartments which is not far from the National Philharmonic.
Note that short-term apartment rentals can contribute to a decline in housing affordability, especially in capital cities. It might be more sustainable to stay in a hotel instead.
Prices in Vilnius
Lithuania is the cheapest of the Baltic States and one of the cheapest countries in Europe. You can find apartments for €20 per night, even less for longer stays in the offseason.
Basic meals can be €5 or a lot more if you want a high-end dinner. Most visitors will find Vilnius to be affordable and it's definitely worth at least a few days of your time.