Even though I like whole grilled fish, it's such a pain to eat. I'm such a failure when it comes to removing the flesh from the bone in one go and usually end up picking at which is such a painful experience. That doesn't stop me from ordering it though, especially when in Croatia when they do grilled fish so well. It's so simple yet delicious and it's even better when in a beautiful location like at the monastery at Lokrum Island in Croatia.
Lokrum is a small rocky island just of the coast of Dubrovnik in southern Croatia. The island is uninhabited, except for a large population of peacocks but it's a great day trip from the mainland and you can go swimming in crystal clear water and follow that up with a delicious Croatian lunch. There is a small kiosk type cafe and one restaurant on the island.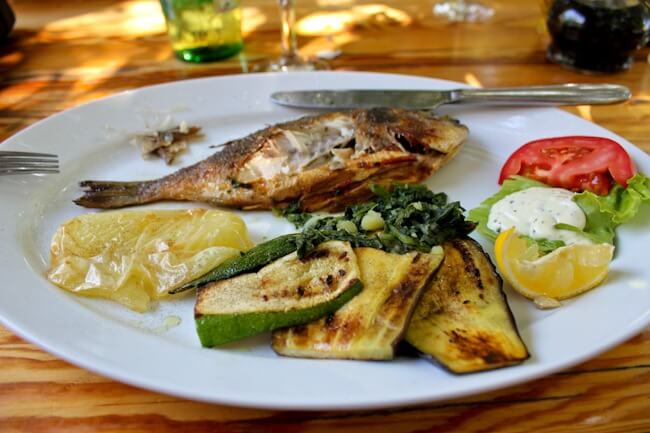 The menu at the Monastery Restaurant isn't particularly adventurous. It's traditional Croatian fare which means grilled fish, meat, salad and pasta. Not a huge choice but it's tasty, albeit a little touristy and not as cheap as what you'll find in a quiet street on the mainland. But there aren't many choices on Lokrum, you either eat at the restaurant, grab a sandwich from the bar/cafe or take your own picnic. In fact, preparing a picnic before you leave Dubrovnik is a great idea and I wish I had thought of that at the time.
Even though having a picnic on Lokrum Island would be ideal, especially as you could eat as you sunbath by the water but the Monastery Restaurant is quiet and in a beautiful setting and the food is tasty so whether or not you choose to dine here is totally dependant on your budget. Fifteen euros per person for a meal at Lokrum Island's restaurant isn't outrageous but it's not cheap either. For the only restaurant on the island I think it's worth it.
6