If you purchase through links on this site, I may earn a commission at no extra cost to you. As an Amazon Associate I earn from qualifying purchases.
Driving through the western Balkans, down to Dubrovnik then across the border to Montenegro, you are faced with two alternatives, hop on the car ferry shortcut across the bay or take the winding detour through the UNESCO-listed town Kotor.
Each time I chose to save time and took the ferry. And I loved it. Crossing the fjord-like bay on the calm, deep blue water with those imposing rocky mountains on all sides. It's quite the experience.
But that meant I always missed Kotor town.
I first learnt about Kotor from friends who love travelling in the Balkans. I had seen their photos and that famous view blew me away.
I'm sure you've seen it too. The view that looks down over Kotor Old Town and the narrow bay, usually with a massive cruise ship in port.
The view is impressive in photos but believe me, it's even more so in person.
Now that I have finally been myself I can confidently say Kotor, from St John's Fortress, has the most beautiful view in the Balkans.
Don't make the mistake I did and think Kotor is not worth the time. If you can't take a dedicated trip to Montenegro at least take a day trip from Dubrovnik or a detour from elsewhere in the Balkans.
Kotor One Day Itinerary
I spent a few days in Kotor but honestly, you don't need long to discover the best things to do, a one day itinerary should have you covered.
Hike up to St John's Fortress
The view from St John's Fortress is what brings most people to Kotor and honestly, there's not much point in visiting Kotor if you don't walk the 1350 steps to the top. If you're unfit, it is definitely challenging but there are plenty of places to stop and rest as you go up. Don't miss this.
The hike takes around 45 minutes and the entrance fee is €3 (unless you enter before 8am when the entrance is open). I think it's nicest to visit first thing in the morning when you can have the place to yourself but I'm sure it's lovely at sunset too.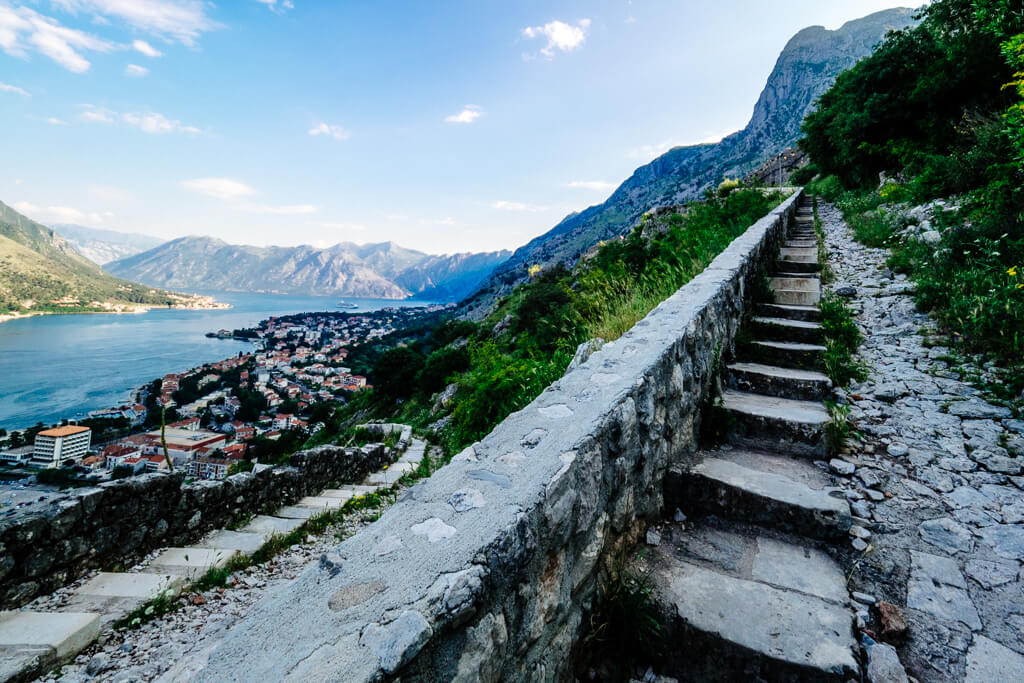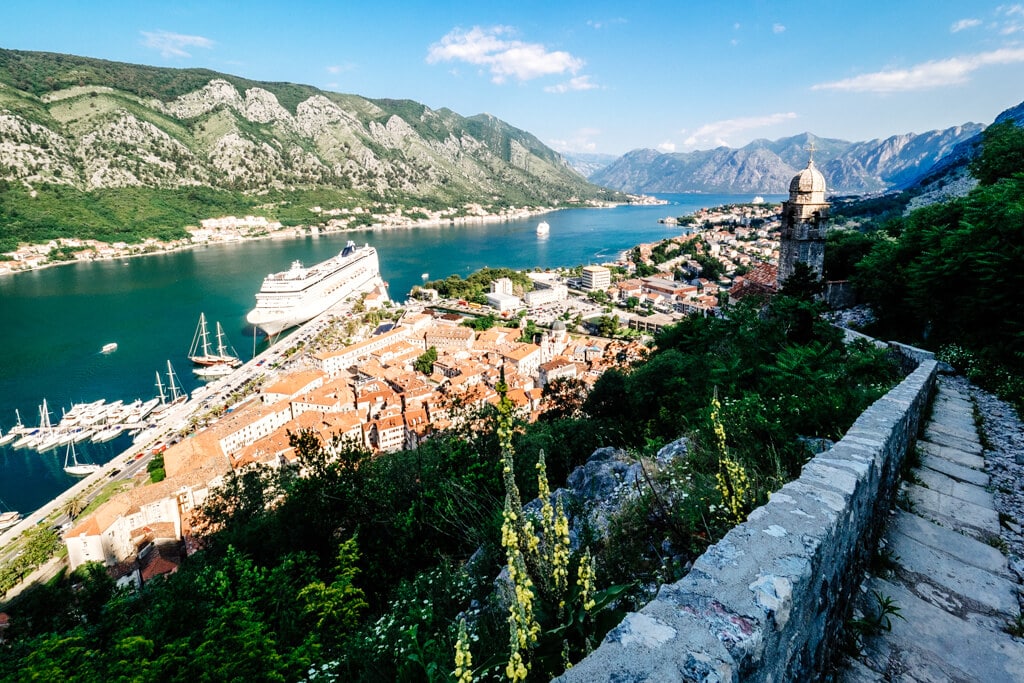 Kotor Old Town
Kotor's Old Town is like a mini-Dubrovnik with (slightly) fewer crowds and more warmth and character, not to mention the stunning mountain backdrop. Kotor feels more lived-in and less 'perfect' than Dubrovnik although who knows how long it will stay that way. Montenegro is changing fast.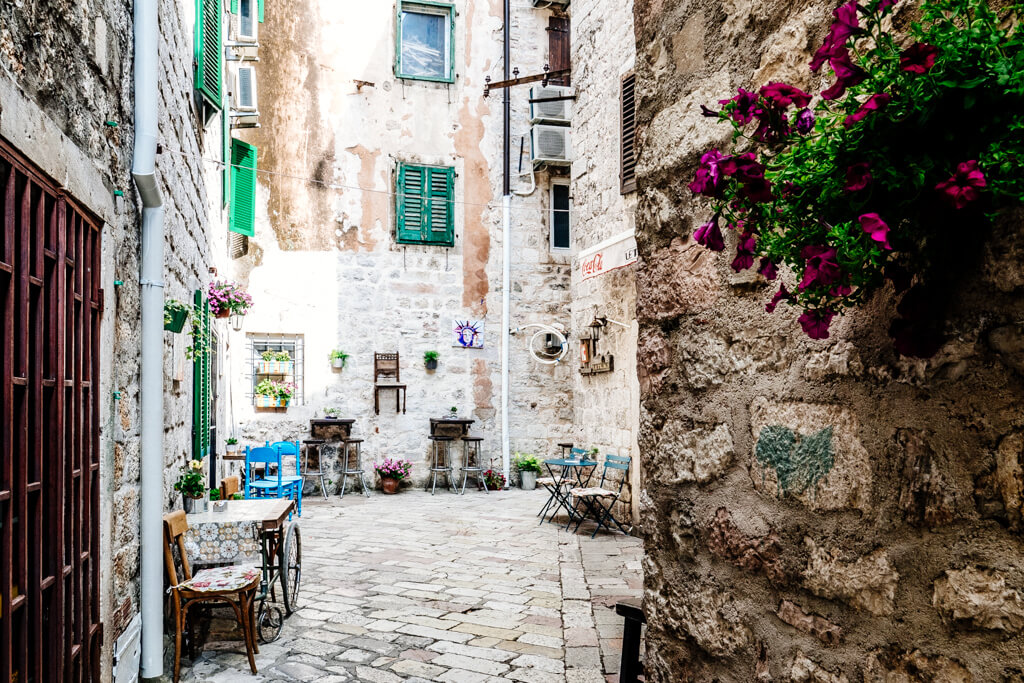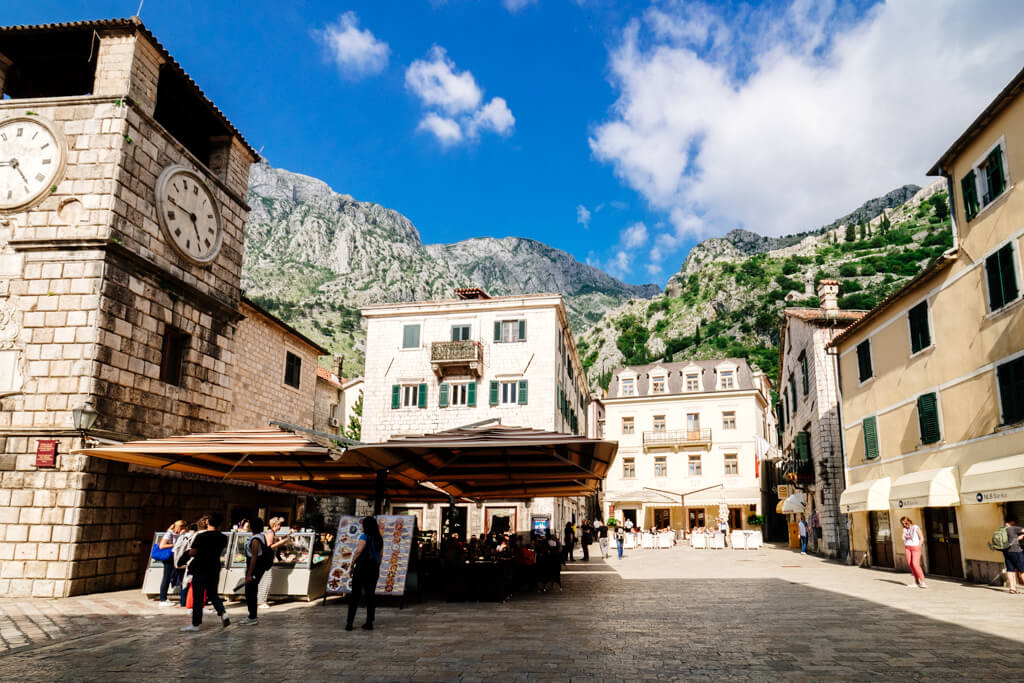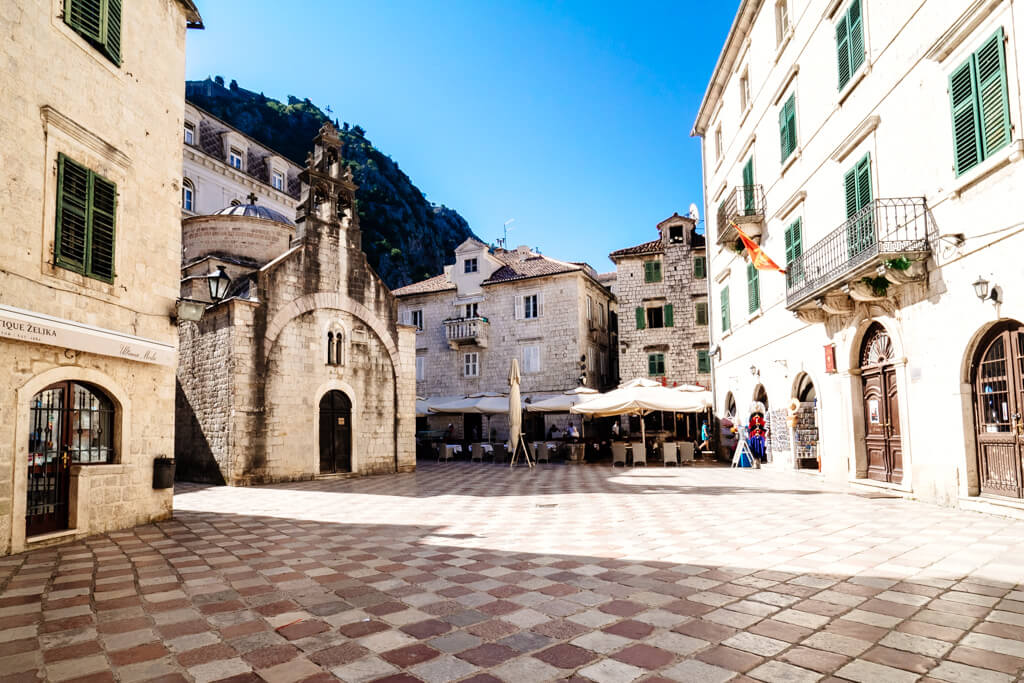 Visit the Main Market
Just outside the city walls is Kotor's main fruit, veggie and flower market. The produce is excellent and if you buy local the prices are reasonable (don't bother with mangos or avocados!). It's the best spot to get picnic supplies if you want to prepare your own meals or just to have a look around.
Perast and Our Lady of the Rocks
When I first read about Perast I thought it was going to be an idyllic tourist-free paradise but actually, it's as touristy as the rest of the Montenegrin coast. Unless you're visiting in winter, there's not much you can do about that. It's definitely worth visiting though, especially to wander the streets of the old town but also to visit the little island in the bay, Our Lady of the Rocks.
Bay of Kotor
There are all kinds of boat trips you can take around the bay, either in a group or on your own. I haven't done this because I get seasick just thinking about getting on a boat but you can get information from the tourist office at the city gate. The most popular boat trips are to Kotor, Perast and the Blue Cave.
Day Trip to Budva & Sveti Stefan
Budva is one of the oldest towns on the Adriatic coast, colonised or ruled by the Greeks, Romans and Byzantines but the most noticeable influence is from the Venetians who loved a good city wall and Budva's beautiful ones are still standing.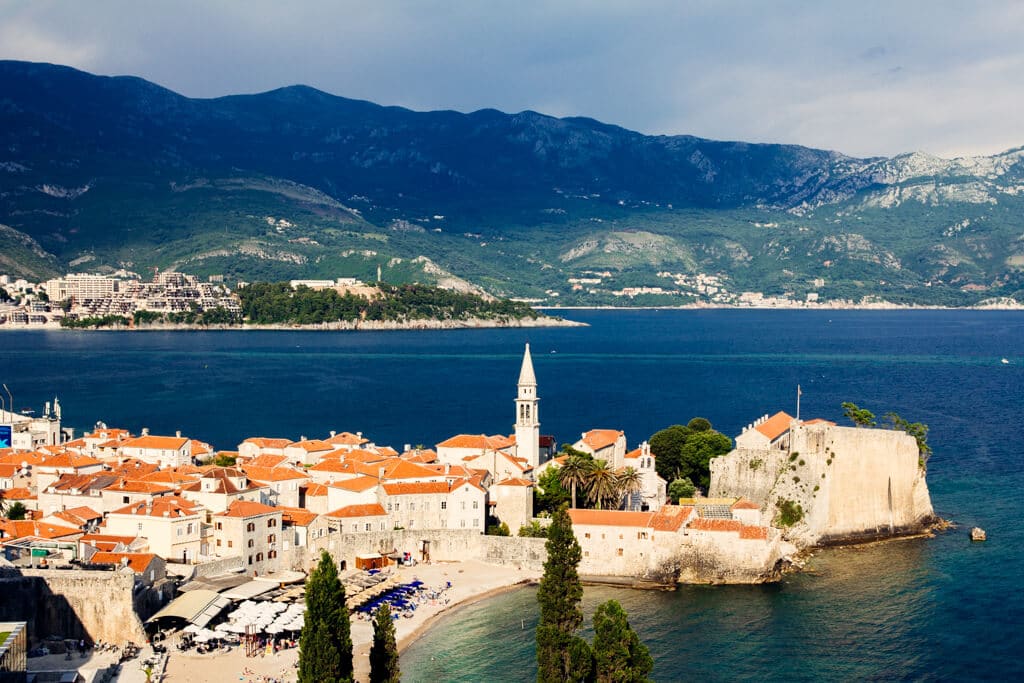 As you can see, Budva's Old Town is gorgeous but as Montenegro's main tourist trap hotspot, it's massively popular with Russian and other European tourists. As usual, I suggest visiting early in the morning to avoid the crowds and returning to Kotor for lunch.
The cafes right on Budva's main beach are great for a relaxing drink but I found most of the restaurants to be a bit of a tourist trap. However, I hear very good things about Konoba Stari Grad.
A little further south is Sveti Stefan, an islet just off the coast, reachable by a rocky walkway. Unfortunately, I've never set foot there and I don't know anyone who has. It's home to a private five-star resort and if you're not a guest you can't enter. Rooms start at around €850 which could be worse and actually it is worse because there's a minimum two-night stay. Maybe one day…
Even if you have your own car I suggest taking the bus or a taxi (which are inexpensive) to Budva as parking is a bit of a nightmare close to the Old Town or be prepared to walk (which isn't a bad thing). On the other hand, Sveti Stefan is easiest to get to with your own car.
Hike Mount Lovcen
The final thing to do in Kotor, which I sadly haven't done, is the hike to the top of Mount Lovcen. Ok, maybe not the top but high enough to get even more spectacular views over the bay. I did a little research on this for my next visit (so don't quote me on this) but from what I hear you can continue on up past St John's Fortress onto the slopes of Mount Lovcen or if you prefer, the main trail starts from the Old Town. You might also be able to drive up there. Ask at the tourist office to be sure.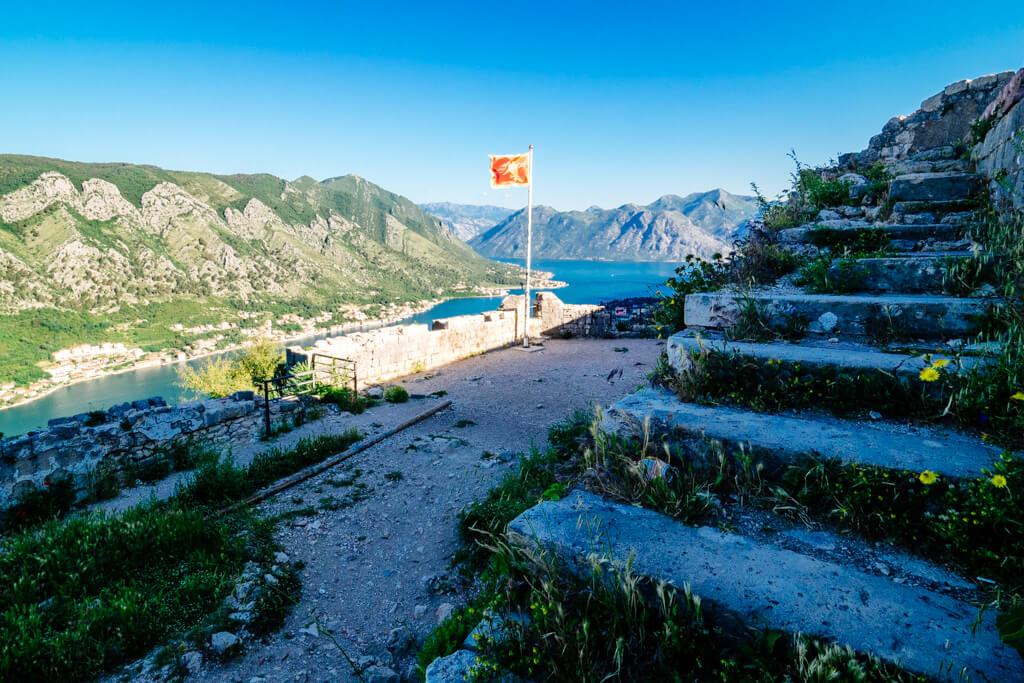 Where to Eat in Kotor
I usually stick to vegetarian dishes but my travel companions raved about the seafood in Kotor which of course makes sense being located on the sea. Here's my mini food guide to Kotor as well as my wish list for when I return.
Caffe Del Mare
We stumbled upon this restaurant but it turned out to be our best meal in Kotor with a perfect waterfront position and friendly staff. I imagine the seafood is fresh everywhere in Kotor and that was definitely the case here. They have a separate vegetarian menu with good options like veggie risotto and big salads with different cheeses. Caffe Del Mare is a little out of the old town but worth the 15-minute walk.
Letrika
The closest you'll get to a hipster cafe/bar in Kotor is Letrika. The cute, eclectic furniture lines the surrounding streets where you can drink coffee, cocktails and local beer.
On my Kotor wish list: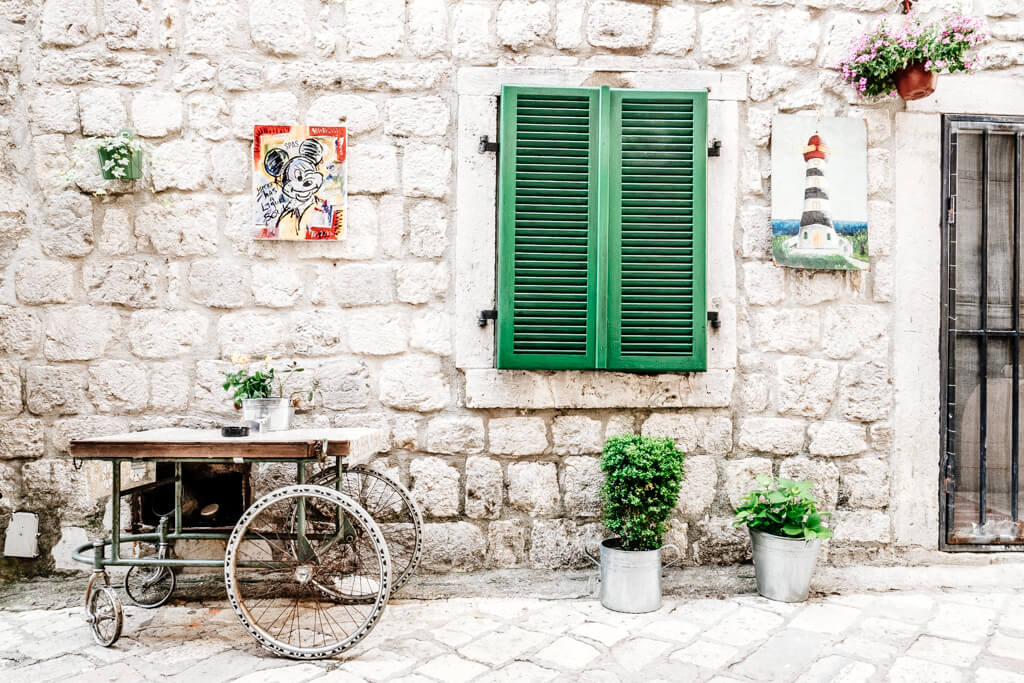 How to Get to Kotor
Take a Balkans Road Trip
There is so much to see in the Western Balkans. You can easily add Kotor to a Croatian road trip itinerary or even drive up from Albania if you're down that way. If you only want to road trip around Montenegro you can see most of the country's highlights in five to seven days, double that if you like to travel slowly.
Day Trip from Dubrovnik
Dubrovnik is the most popular destination in the region and rightly so. The walled-in Old Town is almost entirely built in stone on the edge of the coast. There is so much history and beautiful nature but with a ridiculous number of tourists crammed into such a small town at one time, it's almost unbearable. When the crowds get overwhelming you can easily head over the border for the day to considerably quieter Kotor.
That's not to say Kotor doesn't get busy. When the cruise ships are in (which happens multiple times per day for at least six months of the year) Kotor can also get very crowded, especially during peak tourist season in July and August. If you're visiting at that time be sure to arrive early in the morning to enjoy a peaceful walk up to St John's Fortress.
I suggest day-tripping from Dubrovnik independently, either hiring a car or getting the bus, it's really not difficult, but this is a good tour if you're not confident going on your own. But really, visit Kotor on your own, first thing in the morning.
If you are in a group of three or four you could also look into hiring a driver. We paid €80, one-way, which is only slightly more than what it would have cost the four of us to take the bus.
Where to Stay in Kotor
I was on a budget this trip and stayed in an apartment in Dobrota, a 25-minute walk from the old town. Most apartments are out of town but it's not as bad as it sounds as the walk along the Bay of Kotor is beautiful. I would definitely stay in that area again.
Our host Mirko was super friendly and helpful and he kindly drove us to Dubrovnik for a price similar to the price of four bus tickets. You can book his apartment here.
If you'd prefer a hotel, Boutique Hotel Hippocampus gets excellent reviews and is located in the Old Town. It's one of the most sustainable hotels in Kotor.
That's my list of things to do in Kotor, you can squeeze everything into a one-day itinerary and add the day trips if you have more time. I've no doubt overlooked some stuff. Be sure to let me know about it in the comments. 🙂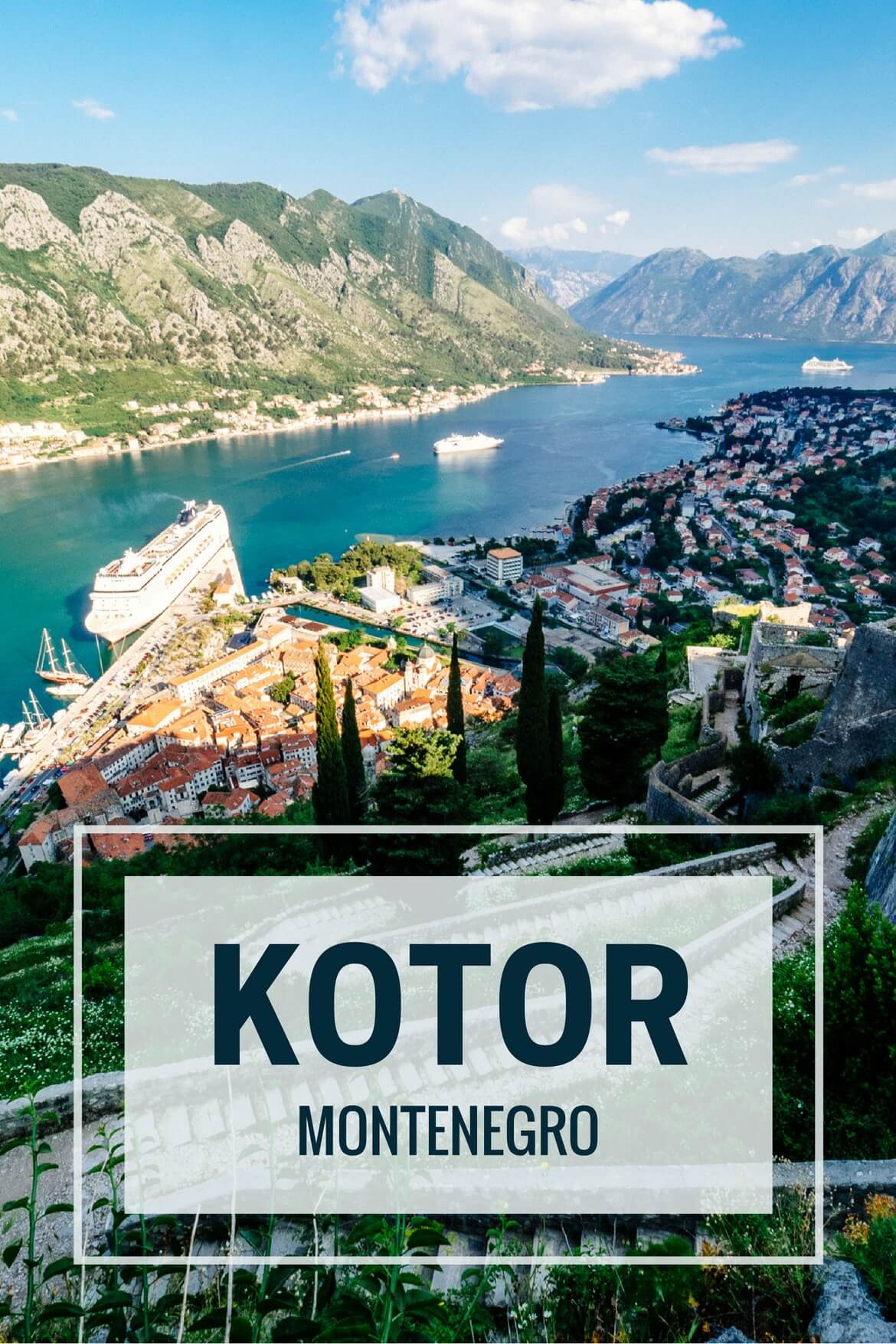 This post contains affiliate links.