One of the highlights of my recent trip to Catalonia was staying in a restored villa in Besalu where a private chef joined us to explain the finer details of making seafood paella. I've made vegetarian paella before which, while delicious, was perhaps not that 'authentic'. This seafood paella recipe however is definitely the real thing made by a local Catalan.
It's up to you what ingredients you use in your seafood paella but it's best to pick whatever is freshest in your local market. A typical seafood paella includes prawns, langoustines, muscles, clams, cuttlefish, pork chops and chicken on the bone. As far as vegetables go, you'll need garlic, red onion, capsicum, green beans, chilli and tomato but you can add whatever you like. Of course you'll also need olive oil, paella rice and salt.
A Spanish Chef's Paella Recipe
Start the recipe by cooking all the main ingredients separately in a paella pan. Cook the prawns and langoustines then brown the pork and chicken pieces as well as some red capsicum in olive oil and put aside.
Add a little more olive oil and cook finely chopped garlic over a low heat so it doesn't burn.
Add diced red onion, green capsicum, beans and a couple of dried chillies. Don't forget to season with a little salt as you go.
Once the veggies have softened, add some cuttlefish.
So Many Ingredients Go Into the Recipe
Let the cuttlefish cook through then add tinned or fresh tomatoes.
Add water and finally the Spanish paella rice. Check the seasoning and add more salt if you need to.
Then add the ingredients cooked earlier including the pork, chicken, seafood and some fresh muscles and clams. You don't have to use all the ingredients used in this recipe, you can stick to whatever meat, seafood and veggies you happen to have in your fridge at the time.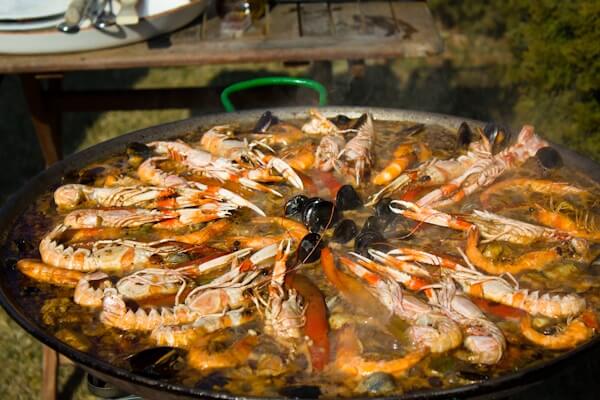 Let it simmer until the rice and the last of the seafood is cooked. Turn off the heat and let it rest for 5-10 minutes then serve!
That is how you make authentic Spanish seafood paella and the best way to enjoy it is outside in the Spanish sunshine with friends and a glass of rosado.
0