If you purchase through links on this site, I may earn a commission at no extra cost to you. As an Amazon Associate I earn from qualifying purchases.
Before moving to Montpellier in 2005, I hadn't realised that the city isn't actually situated directly on the beach. Montpellier is 15kms from the sea so if you want to check out the Montpellier beach scene you need to head to one of the nearby beach towns; La Grande Motte, Carnon Plage or Palavas Les Flots.
Montpellier Beach Guide
Montpellier's beaches are quite different to what you might find elsewhere. The beaches are separated from the mainland via a number of lakes, the largest being the Etang de l'Or. These are beautiful nature reserves where you can watch birdlife and other wildlife. The most famous wildlife here is the pink flamingos. Pointe du Salaison is a nice place to view them from but there are many other places.
Within the three main beach towns are a number of beaches of interest. I'd recommend driving around to see what you like but Plage du Couchant (Sunset Beach), Plage du Grand Travers and Plages Rive Droit are worth visiting.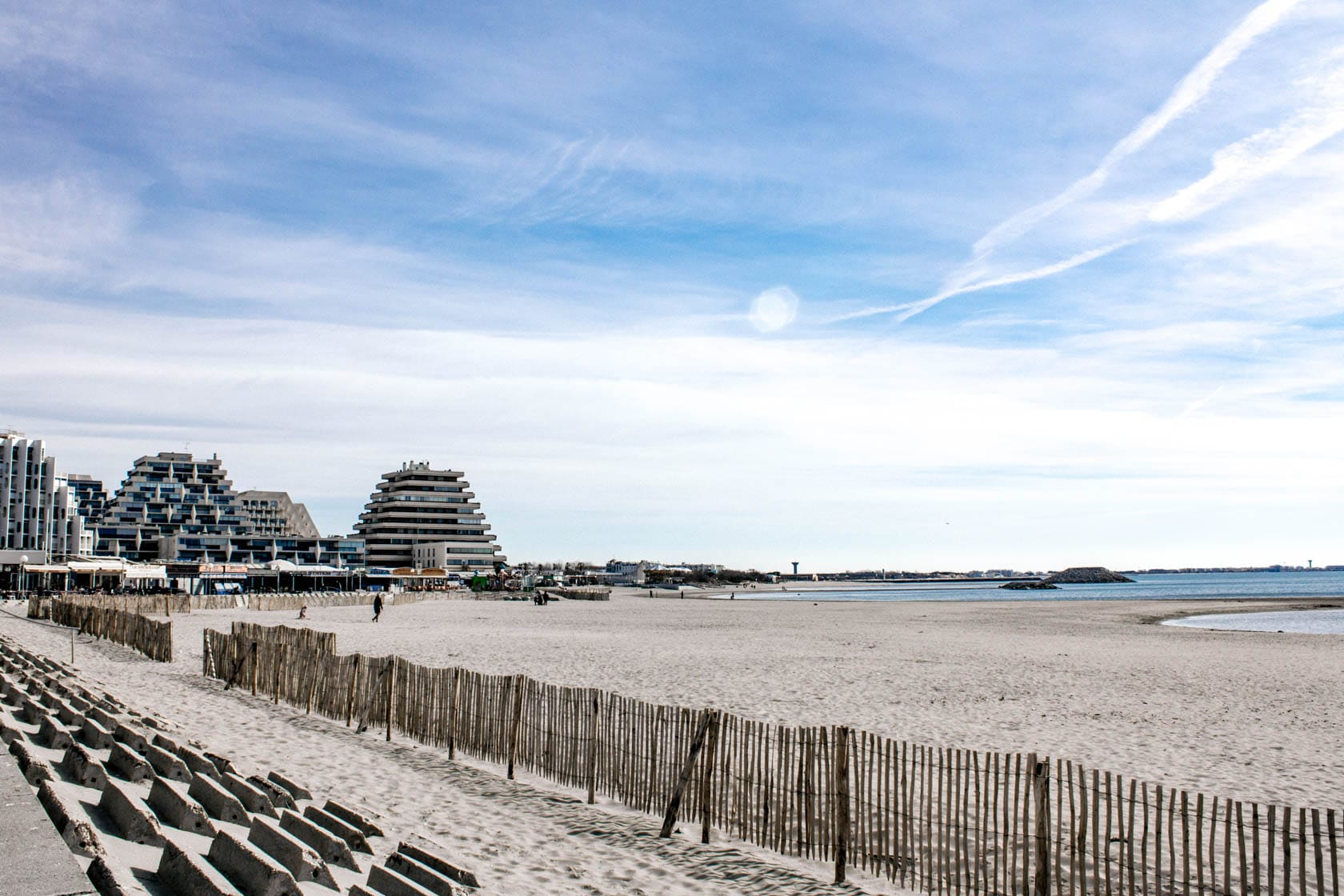 La Grande Motte
La Grande-Motte is the farthest of the three beaches but by far the nicest. The not-quite-white sandy man-made beaches are relatively quiet and calm for most of the year although you'd probably want to avoid it in August, the peak holiday season in France.
What I love about the Grande Motte is its quirky architecture. Primarily built in the 1960s, many of the buildings are in a similar pyramid-like style and even new builds conform to this architectural style.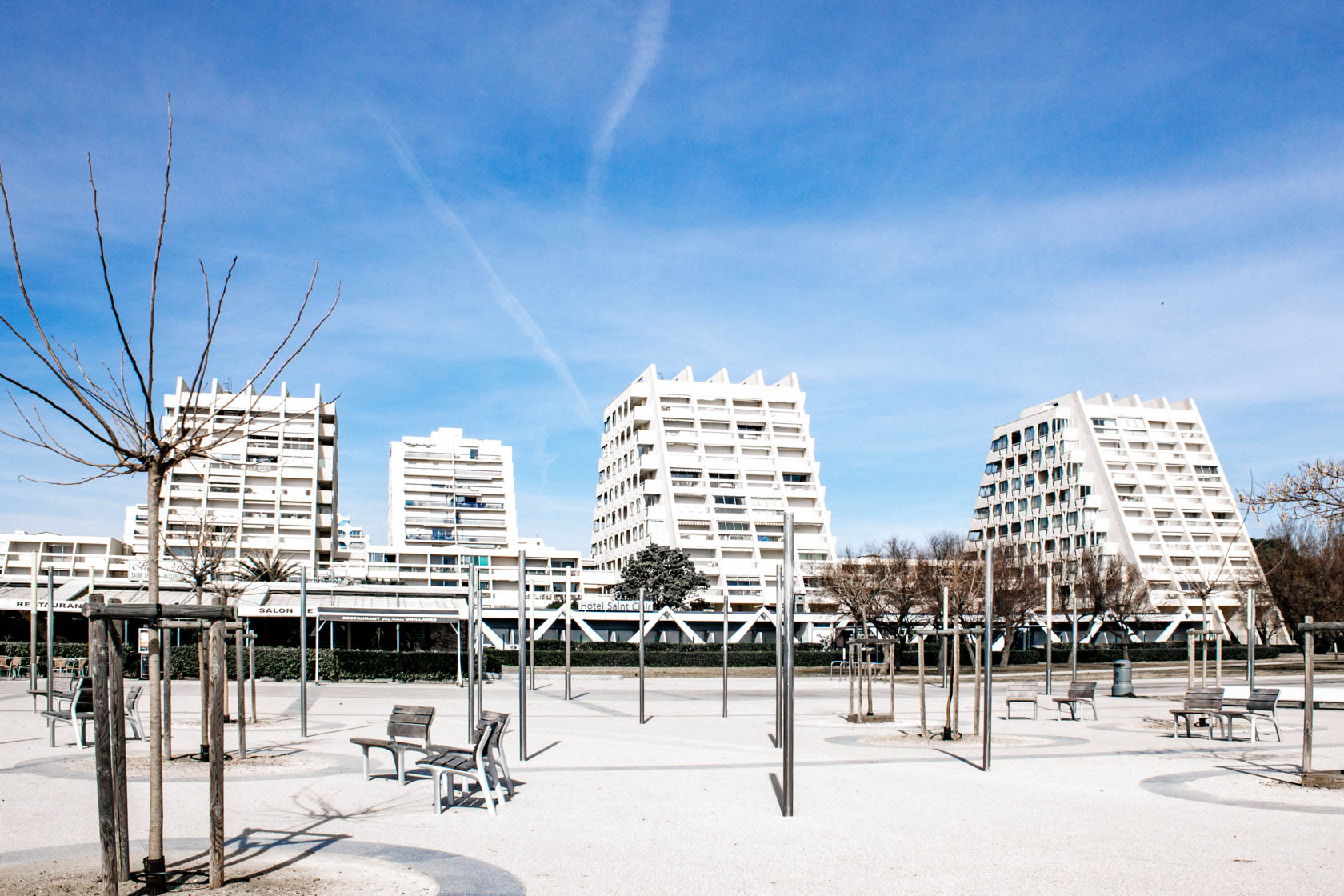 This leaves you with a beach town that is completely homogenous in style instead of the mix and match of architectural styles you see elsewhere. It's a unique approach to urban planning.
I think many people find the buildings to be ugly but I think they're fun and quirky and I love that the council is determined to maintain the look of the town.
Like many beaches along Montpellier's coastline and the Languedoc-Roussillon region in general, La Grande-Motte beaches are man-made. The beaches are a little unusual for this reason but the structure around them does keep them clean, tidy and relatively accessible.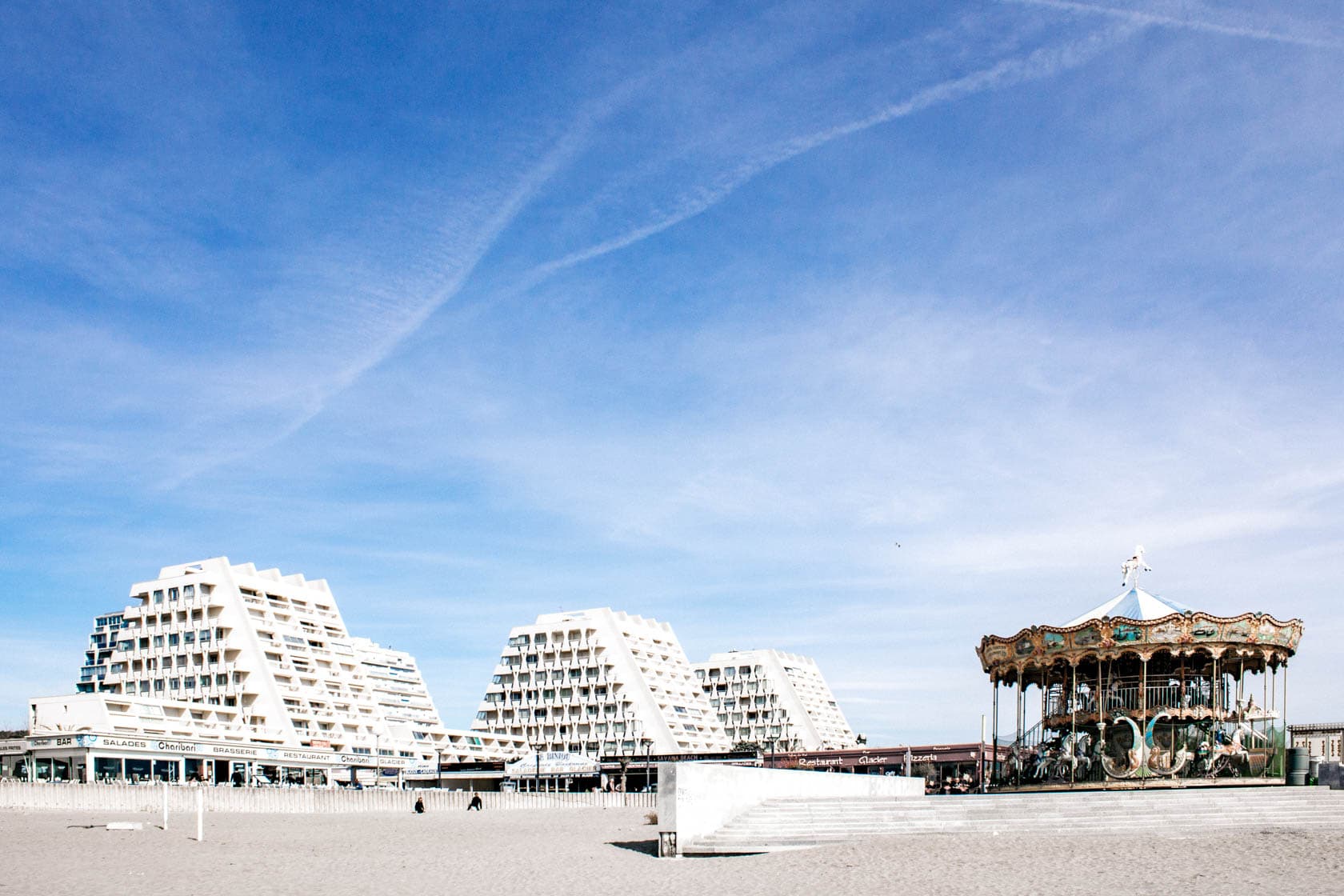 Carnon Plage
Carnon is the closest of Montpellier's beaches but the least appealing. Maybe it's going too far to call it an ugly beach but the small port doesn't help with its attractiveness.
There are few cafes and shops by the beach and the houses are situated directly on the beach which I find a little odd. You'll see sand has swept right up onto people's homes, against doors and windows. I can't imagine how difficult that is to manage and clean.
There are few distractions here so it's the perfect beach if you just want to go jogging or maybe to walk your dog but not so much for sunbathing or having a picnic at the beach.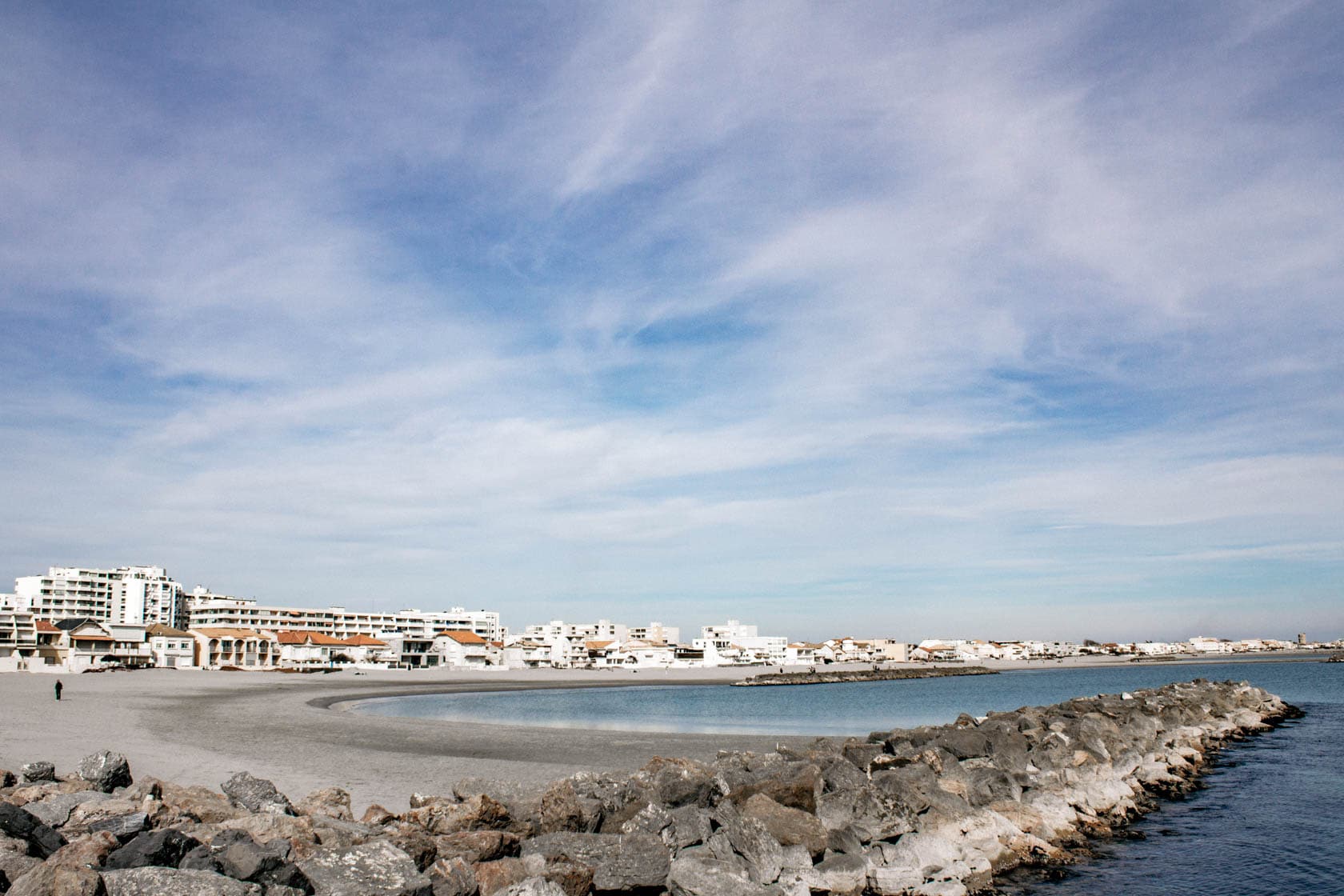 Palavas Les Flots
Palavas Les Flots is a holiday town very popular with French tourists in the peak summer months. This beach is also a touch on the unattractive side and it's even more built-up than Carnon Plage.
The sandy beach is ok but ugly apartment buildings and hotels cover the entire beachfront. Of course, it's nice to be able to live by the beach but the result is a lack of green spaces.
But Palavas is one of the cheaper beach locations on the Mediterranean so if you're on a budget this is a decent option plus there is excellent fishing or hiking nearby.
Palavas is much older than the Grande-Motte and Carnon so there is a mixture of both old and new architecture including the neo-Romanesque Church of Saint-Pierre and The Light House.
Palavas Beach is where I had my first ever Nutella and chantilly cream crepe that has been formed like a cone. This is one of the greatest beach snacks I've ever indulged in.
Nude Beaches in France
If you have the time and your own transport you can find nicer beaches a bit further away from Montpellier. Espiguette has wide-open spaces and isn't built up at all. There is plenty of topless and nude bathing here and it's a popular beach with the gay community. Maguelone is another mostly nude beach.
Cap d'Agde Beach, near Beziers, is the largest nude beach in France (and Europe) and one of the nicest beaches in the Languedoc region. It's around an hour's drive from Montpellier so it's almost a day trip by the time you get there, hang out at the sandy beach, have lunch etc and then drive back to Montpellier. But if you want to go completely nude then this is the beach for you. There is a €5 entrance fee to the Cap d'Agde naturist resort and nude beach but you can avoid this by going via Marseillan beach.
Montpellier's Flamingos
Between Montpellier and the beach areas, you have a number of lagoons that are famous for wildlife, in particular, the stunning pink flamingos. The number of flamingos had dropped in the past but conservation efforts have seen a steady increase in their numbers. I saw a few during my time in Montpellier but at certain times of the year, you'll see hundreds of them soaking up the sun as you pass through the area.
A little further away is the Camargue (close to Arles) where you can also spot flamingos and other wildlife.
Montpellier is one of the sunniest cities in France which is why I'd recommend visiting in spring or early summer when it's warm enough to swim but not overcrowded like in July and August.
While it's always nice to be by the sea, I'm not sure I'd consider these to be some of the best beaches in France and definitely not in all of Europe.
Having said that, the weather is wonderful for beach-going and it's always nice to visit somewhere different.
Each of Montpellier's beaches are easily reached from the city centre via public transport. Montpellier Tourism has information on how to get around. If you can, I'd suggest hiring an electric car to improve access and allow you to spend time exploring the wetlands while you are there.
This post is part of our series designed to help plan a South of France road trip itinerary.
Map of Montpellier Plage
Recommendations are independently chosen based on personal travel experiences and extensive research. This post contains affiliate links to hotels and tours in Montpellier. This means we get a small commission from any bookings at no extra cost to you.