If you purchase through links on this site, I may earn a commission at no extra cost to you. As an Amazon Associate I earn from qualifying purchases.
Twenty-first birthdays are a bit of a thing in Australia. It's kind of silly because the age of majority is 18, but back in the day it was 21, and certain traditions stick.
Most people have a big party with friends and family. Everyone gets drunk and tells embarrassing stories about the guest of honour. It's a fun night that is quickly forgotten once the hangover wears off.
My lovely parents offered to throw me a 21st birthday party or buy me a round-the-world ticket.
As someone who always dreamt of travel, of course I took the ticket!
Skip to the reviews if you know what you're looking for:
I've been very fortunate in my travel life. My grandparents took my brother and me camping almost every school holiday.
I went on my first international trip when I was 12 years old and my first round-the-world trip when I was 20 (soon to be 21).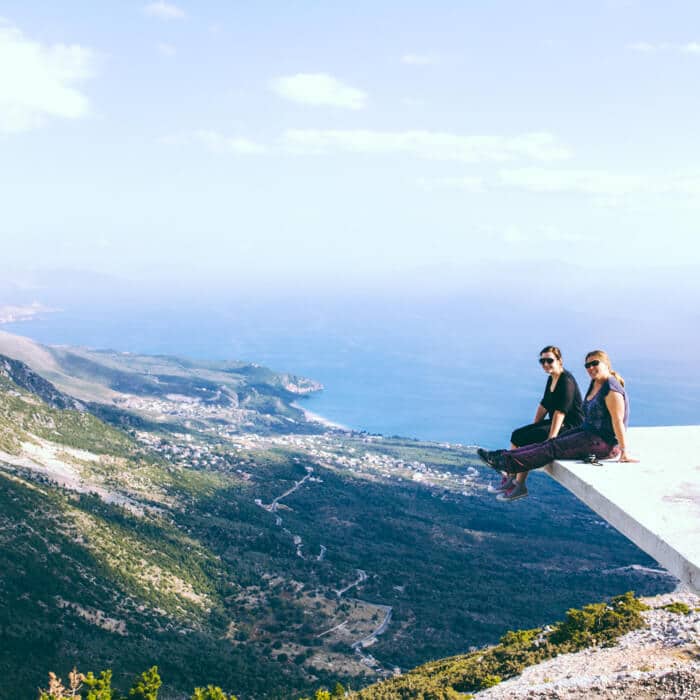 As a language student, I moved to Europe in 1999 and started travel blogging in 2006. I've been a location-independent full-time traveller since 2012.
The point is, I travel a lot and have lived out of a suitcase for way too many years. I know the best suitcases all too well.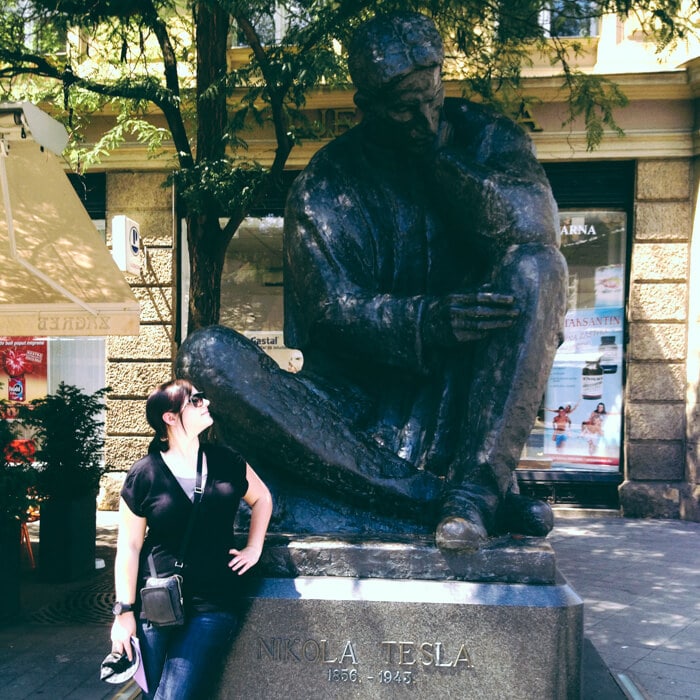 Best Luggage for European Travel
Over the years, I've used many different suitcases for my European travel, from super cheap to lightweight luxury suitcases.
These are my top three luggage brands and styles for travel to Europe.
Cheap suitcase: American Tourister Hard Suitcase
Durable and best value: Delsey Paris Chatelet
Luxury suitcase: Rimowa Essential
For more details, the following are my experiences travelling with different suitcases and why I recommend the three above.
Best Suitcase to Travel to Europe
I travel with a Rimowa 67cm ultra-lightweight Salsa Air suitcase in their most stylish colour, Ultra Violet. I've been using this suitcase regularly since 2009.
Luxury Suitcase
Before you think I've got money to burn, I bought my Rimowa in Germany, where they are significantly cheaper than elsewhere, and I bought it on sale.
Considering its quality and durability and how much I travel, in my mind, it was well worth it.
That said, getting such an expensive suitcase is not at all necessary. There is better value out there.
Brand: Rimowa Essential (they no longer make the Salsa Air)
Suitcase size: 67 cm / 65 L
Weight: 3.2 kg
Best Value Luggage
For many years, I travelled with a small Delsey carry-on hand luggage I bought in Paris as a birthday present for myself.
I loved that pink and grey suitcase. It was my favourite for a long time (I had it before the Rimowa), and while not the same quality as the Rimowa (especially noticeable with the wheels), I never had a problem with it.
The only reason I retired the Delsey is that I spilt something sticky inside it, which was impossible to clean. I even tried eucalyptus oil, which will usually clean anything, but it didn't work and then the bag just smelt of eucalyptus.
The Delsey is the most durable and best-value suitcase I ever had.
Brand: Delsey Paris Chatelet
Suitcase size: Carry-on 48cm
Weight: 2.9 kg
Highly Durable Luggage
I replaced the Delsey with a Tumi hard case spinner. This was a gift from my parents, purchased using frequent flyer points. So it was kind of free, right?
Tumi is an American brand you'll often see in major airports worldwide. They are of fantastic quality but not particularly stylish.
I would never buy one, but it's incredibly durable, so I expect to have mine for life.
Brand: Tumi Short Trip Packing Case
Suitcase size: 66 cm / 59 L
Weight: 3.8 kg
Samsonite Review
When I first started travelling, I thought Samsonite was the be-all and end-all of travel luggage brands. It was a dream to own one.
My lovely grandparents bought me an 82cm, fire engine red Samsonite suitcase when I first moved to France in 1999. It was massive, not lightweight, and it only had two wheels.
That size is not exactly convenient for European travel, but it was perfect for its purpose, moving to another country.
I still have that suitcase. It's a little beat up around the edges but still in great condition 24 years later. I no longer use it because it's simply too big to be practical. I keep it for sentimental reasons.
I bring it up because it's a testament to the quality and longevity of Samsonite suitcases. Their new ultra-lightweight suitcases are excellent and, in a couple of cases, quite nice to look at.
Brand: Samsonite Best Seller
Suitcase size: 69 cm / 74 L
Weight: 2.9 kg
Best Cheap Luggage
There are so many cheap suitcase brands available now. I've tried a few at times and given them away to friends. They can be a bit hit or miss.
However, cheap luggage is improving quality, so consider this if you're on a budget. But keep in mind cheap luggage can be a false economy if it doesn't last.
American Tourister is the best budget choice.
Brand: American Tourister Hard Suitcase
Weight: 3.3 kg
Guide to Lightweight Luggage
If you travel often, travelling light is key, as a heavy suitcase can take up a significant amount of your travel allowance before you've even put anything in it.
But you need to weigh up the weight/cost-benefit.
Is it worth saving a kilo or three on an ultra-lightweight suitcase if you never approach your weight allowance anyway? Or are you always hitting your maximum limit and need to save every kilo possible?
Hard or Soft Suitcase?
Hardcover suitcases are generally more robust, which is especially important when flying but also when considering the sustainability of the suitcase.
Some hard suitcases have side sections that you can unzip to place a book or documents, others don't.
For me, the main downside of a hard case is that you need more space when in your room as you have to open them up completely to get anything out of them.
While this can take a little getting used to, it isn't a huge problem.
Soft suitcases, on the other hand, can get damaged a little easier but can be more convenient with extra pockets. They can also be cheaper but not always.
The choice really comes down to style and price and how much flying you intend to do.
Overall, I recommend medium-sized, hard case luggage. But travelling with hand luggage only is great if you can manage it.
Cheap or Expensive?
The more expensive suitcases tend to be lighter in weight and more durable.
But these days the cheaper brands are coming out with ultralight suitcases and even the heavier ones only have a couple of kilos in them.
I generally only recommend purchasing one of the luxury brands if you can get the suitcase on sale. I love a good sale and I'm sure you do too. Wait for Black Friday or other big sales and plan what brand you want in advance.
When buying a new suitcase, you need to think about your travel style, needs, and budget.
It all depends on how often you travel, what mode of transport you mostly use, if you need side pockets for easy access, and most importantly, what you can afford.
For more tips and information on travelling in Europe, start at my Road Trip Travel Blog homepage where you can find our most popular guides and itineraries.

If you're not sure where to go, this list of the best places to visit in Europe should give you plenty to think about.
Responsible Shopping
While it can be nice to embark on a trip with new luggage in hand, it's important to travel and shop responsibly.
Here are a few ideas on how we can do this when it comes to shopping for a suitcase.
Use the luggage you already own rather than purchasing new.
If possible, borrow from friends and family.
Consider purchasing second-hand luggage to extend the life of existing products and reduce the demand for new products.
If you must purchase new, buy luggage made from lower impact or sustainable materials, such as recycled plastic or those produced with natural fibres like cotton or hemp.
Look for luggage with minimal packaging and avoid single-use plastic packaging materials.
Choose luggage with a long lifespan and durability to reduce the need for frequent replacement.
—
Recommendations are independently chosen based on personal travel experiences and extensive research. This post contains affiliate links to suitcases that I recommend. This means I get a small commission from any bookings at no extra cost to you. As an Amazon Associate I earn from qualifying purchases.