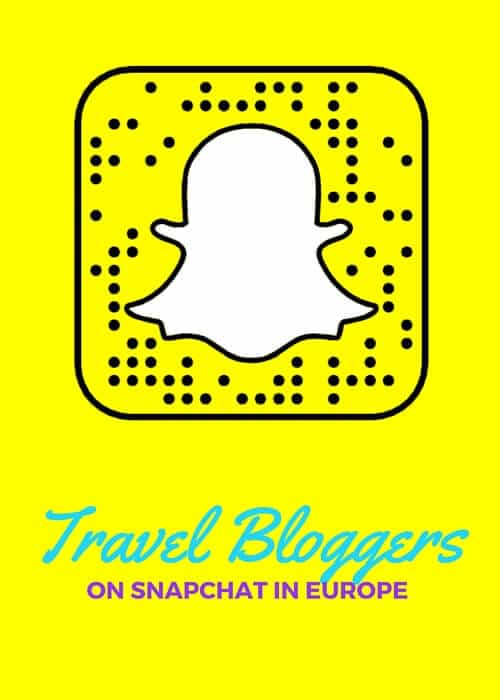 Updated: 27th July 2016
Even though I joined Snapchat ages ago I never really got into it until recently. And I have to admit I really like it. It's like doing a daily vlog for Youtube without the time constraints and hassle of editing and uploading. It's simple and easy and not only a great way to discover new travel destinations but also to get to know the bloggers behind your favourite blogs.
There are a few lists around suggesting who to follow but they're all much the same. I'm going to share with you my favourite travel bloggers who are using Snapchat in Europe, either those based in Europe or frequent travellers to Europe.
Travel Bloggers on Snapchat
The following travel bloggers (and a couple of food and fashion bloggers) are doing fun things on Snapchat right now. But yes, of course I'd love you to follow me too, username: destinationeu 🙂
https://www.snapchat.com/add/destinationeu
Paris in Four Months
@carin-olsson – If you want to see gorgeous Paris and what's going on in the high-end fashion houses Carin has a fun Snapchat for you to follow. She's a great photographer and really knows how to show Paris at its best. Her snaps are really cute.
Donal Skehan
@donalskehan is a cookbook writer/Youtuber from Ireland. He makes some great cooking videos but also vlogs his travels around Europe and elsewhere like Croatia, Budapest and Amsterdam. He's relocated to LA but he still travels often in Europe.
Lily Rose
@lily_roz – French photographer and popular Instagrammer Lily is adorable on Snapchat as she shows us around as she travels.
A Lady in London
@aladyinlondon – Julie is based in London but is a prolific traveller, always snapping cool places and introducing me to new destinations.
Expat Edna
@expatedna – Edna is a serial expat and/or long-term traveller with one of the most varied and inspiring Snapchat accounts. She travels all over but spends loads of time in Paris and Europe in general but she's currently in Rio for the Olympics.
Travels of Adam
@travelsofadam – Follow Adam for Berlin updates, travels around Europe and some NSFW snaps I'll pretend I never saw.
Lee Abbamonte
@leeabbamonte – If you haven't been following Lee you just missed him in Albania and Kosovo, the rest of the Balkans and other parts of Europe. He's always travelling so I'm sure he'll be back in Europe soon enough.
Travel Dave
@davebrettuk – Dave gets around but he's currently travelling in Ireland. He's great at showing off the destinations he's visiting with scenic snaps of the countryside as well as urban life and the local food.
Elia Locardi
@elialocardi – Professional travel photographer and full-time traveller, Elia spends much of his time in Europe with snaps from Greece, Italy and elsewhere.
Other travellers to look out for on Snapchat:
Don't forget to add me too @destinationeu. Right now I'm sharing snaps from Australia but I'll be back in Budapest and travelling in Central Europe and the Balkans soon.
If you have any recommendations for travel bloggers to follow on Snapchat leave their username in the comments.
2