Tirana is a bit of a mystery to me. Even after five visits I still don't know what to make of it. There's no Old Town, the restaurants are all much the same and there aren't really any 'sights' to speak of. So what is there to do in Tirana? To be honest, I don't know. People tend to visit Tirana, and Albania for that matter, out of curiosity more than anything. The best advice I can give is to have a wander and get a feel for what 500+ years of Ottoman rule followed by 45 years of hard line Communist rule does to a country.
So what exactly is there to do if you have a few days in Tirana?
Go Cafe Hopping in Blloku
Cafe hopping is my favourite thing to do in Tirana and it's the most popular pastime of many locals too. Blloku is the former exclusive neighbourhood of the Communist regime and is currently the hub of cafe culture in Tirana. People often sit for hours after purchasing just one coffee, gossiping with friends or discussing the sorry state of Albanian politics. Personally I was quite happy sipping on €4 cocktails curiously watching Albanian girls walk by in their short skirts and high heels while the narrow streets were clogged with the latest 4WDs from Germany.
Compare Ottoman, Italian and Communist Architecture
The Ottoman Empire ruled Albania for more than 500 years but there is little evidence of their occupation in Tirana. The Et'hem Bey Mosque is the main exception. It's free to enter the mosque to see the frescoes and Islamic art.
During a brief period between the fall of the Ottoman Empire and the start of the Communist era, Albania was a monarchy headed by King Zog I. The monarchy was closely involved with Fascist Italy which is why you can see a number of Italian buildings around Skanderbeg Square in the centre of Tirana.
After WWII the communists and dictator Enver Hoxha took over. The most famous building from this period is the Pyramid designed by Hoxha's daughter in memory or her father who died in 1985.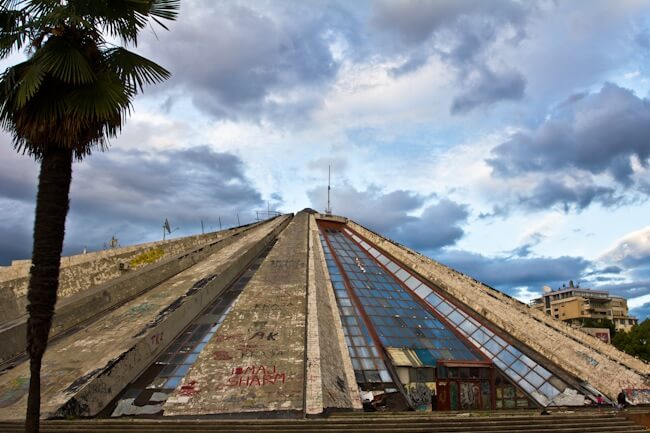 Visit Skanderbeg Square
Protectively overlooking Skanderbeg Square is the statue of Albanian hero Skanderbeg who fought against the Ottoman Muslims in the 15th century.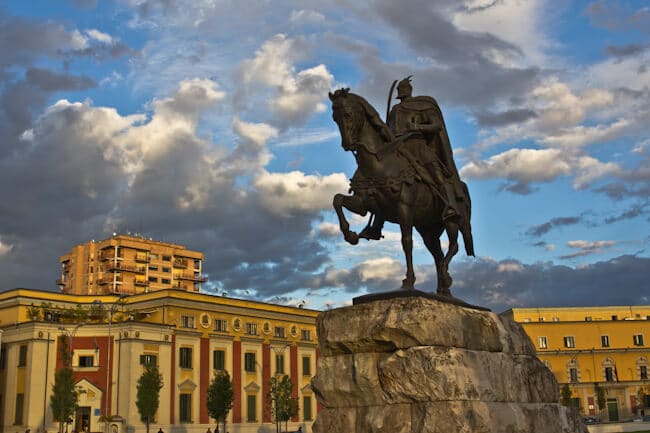 Skanderbeg Square is also the location of the National History Museum with its unusual nationalist themed mosaic at the entrance. All are equal in Communist Albania.
PS. Try not to get killed crossing the square. Albanian drivers don't tolerate pedestrians so watch out.
Take the Cable Car to Mount Dajti
Being told we were waiting for a break from the wild weather before we could hop on the cable car did not instil confidence for the 15 minute journey up to Mount Dajti. But we made it to the top in one piece and once the clouds cleared we could see as far as Durres on the Adriatic Sea.
Eating Out in Tirana
I'll be publishing an entire post on where to eat in Tirana in my upcoming Mini Travel Guide to Albania. Stay tuned…
Where to Stay
There's not a huge choice of accommodation in Tirana when it comes to good value but on my last few trips I've stayed at Hotel Ejna in the Blloku district. The hotel is new-ish, they have wonderful king size beds, the staff are very friendly and you can't beat the location. The hotel does have a few small maintenance issues but there is nothing better in this price range. To see prices or to book Hotel Ejna click here or check out the Tirana hotels listed in my Albanian travel guide.
0