I love how one of Nuremberg's main claims to fame is a sausage and a little sausage at that. The Nuremberg bratwurst or sausage to us English speakers is a thin pork sausage around 8cm in length. You'll most likely find it as street food, grilled and served three in a bun with your choice of sauce, typically mustard. The Nuremberg bratwurst is so famous that it's protected by EU legislation and even has its own festival, the Nuremberg Sausage Village!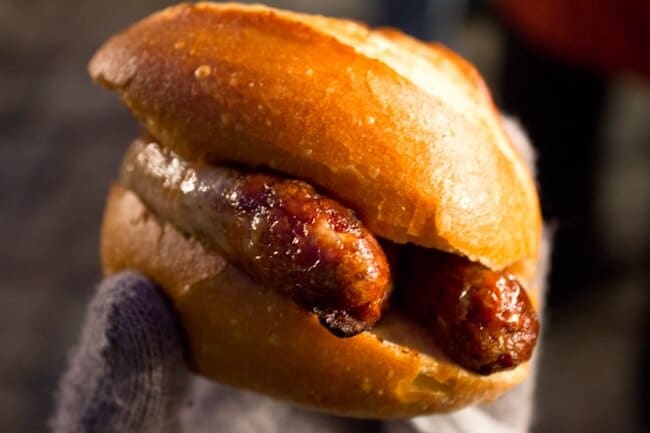 I don't usually eat pork, simply because I don't like it, but seeing as I was in Germany to visit Nuremberg's famous Christmas market I figured it wouldn't hurt to try the local speciality. I picked a vendor who was giving the sausages a nice dark grilling and I covered my three little sausages with curry ketchup sauce which was new to me too. I was thinking I wouldn't be able to eat the whole thing but I have to admit it was very tasty. The sausage meat is flavoured with marjoram which I could definitely taste, at least where the sausage wasn't slathered with sauce.
I didn't spend long in Nuremberg as I was heading south to Munich to continue my Christmas market tour. Wandering around the Munich markets, I saw a couple of stalls selling the Nuremberg bratwurst. Did I dare try it again? I did and this one was even better than the one I had in Nuremberg. It was cooked over hot coals which gave a bit of a smoky flavour to it. Bravo Munich.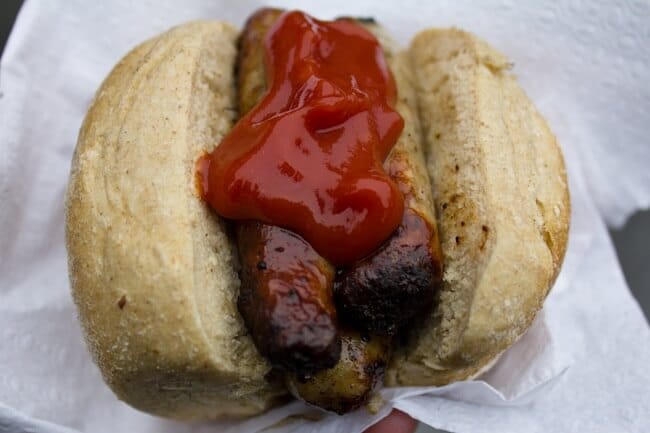 I am determined to eat more street food from now on as I think by avoiding it I'm missing out on some amazing meals. I always such a pickytarian but I'm trying my best to change that and eat a wider variety of food. I have to be brave and eat more foods to broaden my palate!
For more things to see and eat in Nuremberg, check out what I got up to on my solo visit to the city.
0