Pierluigi is the only seafood restaurant I've visited in Rome so I can't say if it's the best or not but it definitely could be. The multiple course meal we had was outstanding. Plate after plate of seafood, warm and friendly service and great company will make this a meal I always remember.
We started with an amazing seafood antipasti which included fish carpaccio and seafood tartare as well as kiwi, pomegranate and blood orange. I have never tried anything like it but I surprised even myself by liking it. I don't eat much seafood, especially raw seafood but I would definitely order this next time I'm in Rome.
My favourite dish of the day was the fiori di zucca fritti (deep fried stuffed zucchini flowers). These were so light and delicious. They apparently had anchovies in them but I couldn't taste it which I'm sure was a good thing.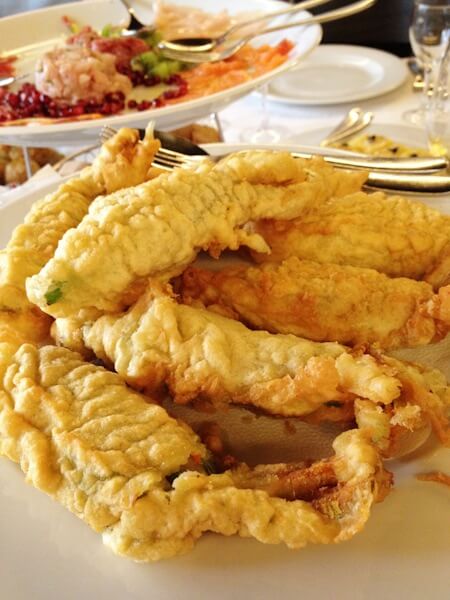 I lost count of how many other dishes came out but I do remember a creamy polenta dish and a plate of grilled meatballs. I skipped the meat but went back for seconds of the polenta (which looks kinda weird in this photo but it was tasty, honest).
Next up was a massive bowl of pasta with a variety of shellfish. The Italians love to make food which is simple yet delicious and this was great success in that regard.
Pierluigi isn't just a seafood restaurant, they do meat and vegetarian dishes too, but it would be a shame to eat here and not try at least some seafood. That is their specialty and it's the most popular seafood restaurant in the Campo di Fiori area of Rome and one of the best meals I've had in the city. I felt lucky to be able to review this restaurant and would definitely recommend it to those looking for a top restaurant in Rome.
0