Stepping out of Berlin's chilling winter air and into the former railway station, we were swiftly seated at a sunny window table meticulously decorated in minimalist white and purple. Without hesitating, we ordered sparkling wine from Sarah Wiener's home country, Austria.
Sarah Wiener is a bit of a TV celeb in the German speaking world. She's a regular on cooking shows and has her own TV series where she travels around Europe exploring regional culinary delights. A woman after my own heart. Her bio-certified Hamburger Bahnhof restaurant takes classic German/Austrian specialties and prepares them with a lighter, modern twist.
Determined to give up my vegetarian ways, I took quite a leap when I ordered steak tartare. It looked so beautiful I couldn't resist and the lightly grilled steak mixed with fried egg, sweet onion jam and popped capers was unexpectedly tender and flavoursome.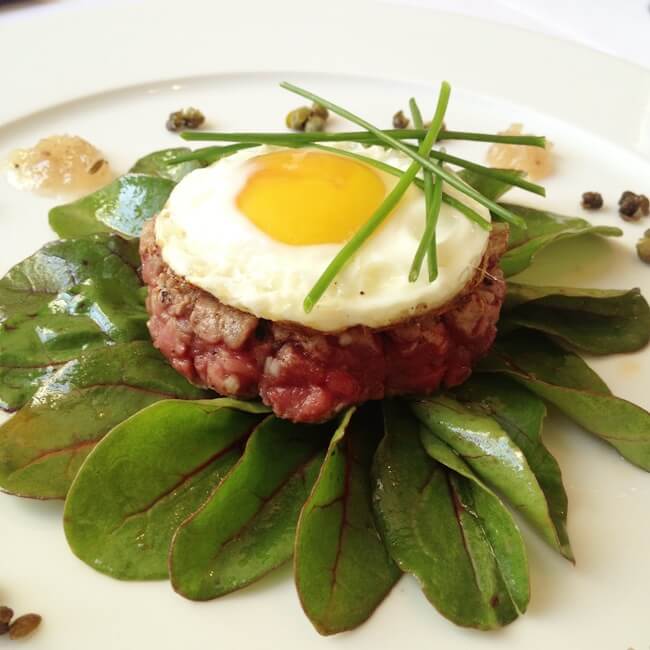 For the main I went for the daily special of stuffed chicken breast, seasonal vegetables from Sarah Wiener's local farm and mashed potato. Simple ingredients prepared to highlight their natural flavour.
If you're not sure what to order you can't go wrong with the Wiener Schnitzel. Lightly crumbed and fried, tender organic veal with sweet cranberry sauce and a tasty sprinkle of salt flakes. A generous, mouthwatering serving of an Austrian classic.
These days I like desserts less and less. It has to be very special to leave an impression. The baked doughnut with hazelnut mousse and berry ice cream was nice but I wouldn't order it again. The doughnut and berry ice cream was a tasty combination but I wasn't crazy about the texture of the hazelnut mousse. I definitely preferred the savoury dishes at Hamburger Bahnhof over the sweet.
We shared entrees and dessert and our bill came to around €80 including drinks and tip so it's not a cheap meal by Berlin standards but we loved it and would happily return. We're huge proponents of organic and seasonal cuisine and Sarah Wiener's restaurant is a great place to experience that in Berlin.
0