The round loaves of brioche with chunks of sugary pink nuts piqued my curiosity when I first walked by the Pralus bakery in Paris one afternoon. They were piled up in the window and never having seen them before I felt compelled to buy one.
The Praluline is a sweet bread containing a generous amount of pink candied nuts. Pralus makes the praline in-house using Valencia almonds and Piedmont hazelnuts which are coated in rose sugar and then cracked. It's an unusual looking bread which is quite sweet and has a very unique in flavour. A delicious flavour. It's the perfect bread to take on a picnic or to enjoy as an afternoon snack. Apparently you don't need to add anything to it, just slice it up and eat it as is, but I was tempted to put some of France's famous butter on it.
Paris & Annecy
On a recent trip to Annecy, not far from the Swiss border, I came across another Pralus bakery with Praluline's in the window and then noticed many of the bakeries in Annecy include pralines in their bread. I'm not sure if it's a specialty of the region but they were everywhere. I really would like to know the origin of these nut pralines but on this trip I was just happy to eat them.
Some of the bakeries even had candied nut praline croissants. I didn't get to try these as Annecy has so many mouthwatering foodie options and I didn't have time to try everything I wanted.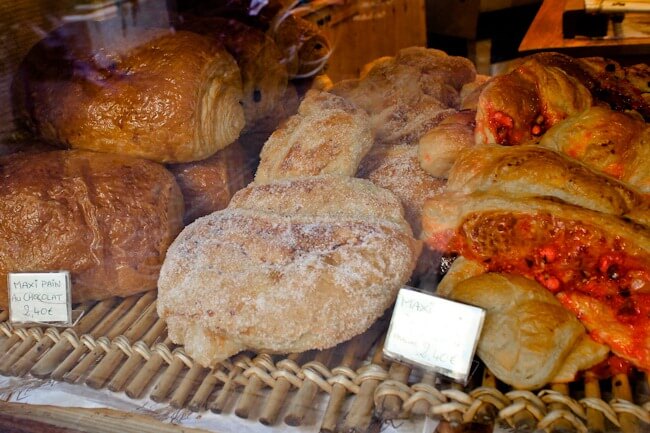 Praluline Recipe
The Praluline recipe is a tightly held secret so it's a bit difficult to replicate at home but this post shows how it's done. Leave a comment if you have other tips on making the Praluline.
From my experience I'd say the original Pralus Praluline is the best but I'd definitely suggest trying the praline croissant if you ever come across one, I know that's what I'll be having for breakfast next time I'm in Annecy.
7