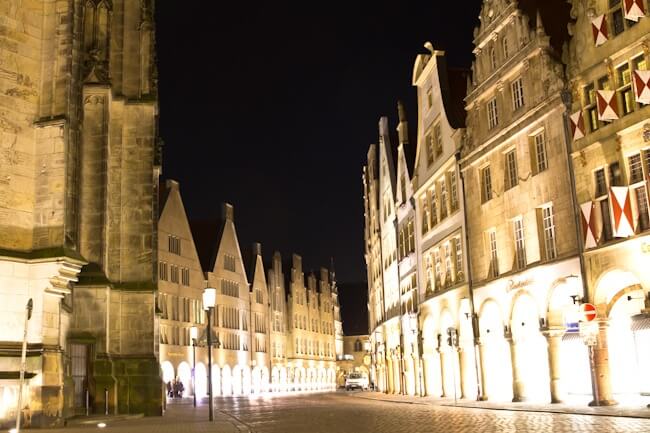 Everyone keeps telling me that Germany is unseasonably cold at the moment and the -12C temperatures I experienced in Hamburg were not normal. But that's not much consolation when you want to go out to explore and not freeze to death in the process. Even though things were only marginally warmer by the time I reached Muenster I couldn't resist heading out into the bitterly cold night to get some photos of this very pretty city.
As is the case with most German cities, Muenster was heavily bombed during WWII and very little was left standing.
So most of the buildings in the old town were rebuilt in the original style which you can see in the gorgeous Prinzipalmarkt.
After walking around the old town for a bit we headed out for a very traditional meal at Muenster's famous Pinkus Müller brewery where we got to try some local specialties including cheese made with beer which smelt off but tasted great and their organic Pinkus Alt brew.
Our non-English speaking waiter then offered us a digestif which I'm sure he described as 'medicine' and which tasted exactly like that. At least it warmed me up before heading back out into the cold.
A brisk walk and 300 steps later I reached the top of the steeple at St Lambert's Church to take a look at Muenster from above. Unfortunately the tower is not usually open to the public but I can assure you the views were fantastic.
Not fantastic but creepy was being close enough to touch the original cages where the tortured bodies of the leaders of the Munster Rebellion were once exhibited and left to rot.
The city is beautiful at night and was even more beautiful the following morning when everything was covered in snow.
Where to Stay in Muenster
On this visit to Muenster I stayed at the new and modern Treff Hotel located in the very centre of the city, a short walk from the Prinzipalmarkt and Pinkus Brewery.
Driving Tips
Muenster is famous for its cyclists and they don't stop for anyone! Be careful when driving in the city as cyclists have right of way at all times. Pay special attention when turning right in case a cyclist comes up on the inside of the lane.
More on Muenster
For more information on Munster and other off the beaten path destinations in Germany check out Historic Highlights of Germany or the Back Roads Germany guide.
1