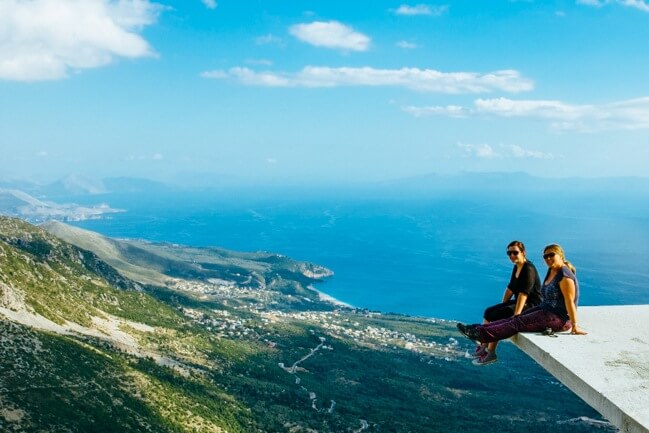 It's hard to believe I've spent almost 5 months in Albania this year. Much of that time was spent in Berat and if you follow me on Twitter you'd know I wasn't always happy to be there. With a population of around 50,000 it's by far the smallest town I've ever stayed in for an extended period. That's not easy for a big city loving girl.
The rest of the time was spent road tripping in the south of Albania with Yomadic, his lovely girlfriend and of course with F. We actually travelled through 6 countries together and it was quite an experience, the highlights being a visit to the crazy breakaway territory of Transnistria and the incredibly scenic Lake Ohrid.
Then there was Albania. Four weeks covering as much of Albania as we could. Crossing the mountainous border region near Pogradec, down to Berat and then through the spectacular Llogara Pass and the Albanian Riviera. I'll never forget that incredible drive down the coast and of course our brush with the mafia in Lazarat.
The last few weeks have been spent polishing up my travel guide which I'm very happy to announce is now online! It covers everything you might want to do on a trip to Albania, where to go, the best beaches, interesting day trips and practical tips like restaurant recommendations and where to stay.
Click here to read the guide and tell me what you think.
This is the first of many travel guides I'm working on so any feedback and comments would be appreciated. Let me know if I've left anything out or if you don't like the layout or whatever. I'm open to ideas!
I still have few restaurants to review here in Tirana and then I'll be posting a photo essay which I hope will inspire you to visit Albania sometime soon. After that I'll be moving on to start my next guide. I haven't 100% decided where to next but it will probably be outside of the Balkans for a change.
If you like the guide and think it might come in handy for yourself or your friends I'd love if you could share it on Facebook. Thanks!