Floriade is an unusual event in that it only takes place once every 10 years. It's also unusual in many other ways. It's a horticultural expo but there are also country specific displays which don't seem to have much to do with horticultural at all. Take the Afghan display. They created a mini bazaar selling traditional clothing, jewellery and semi-precious stones amongst other things. People were queuing up to get their hands on anything from one of the least visited countries in the world. They also had stacks of Afghan currency on display. I didn't get why or what it had to do with Floriade's sustainable living theme but it was interesting nonetheless.
Keeping with the unusual theme, I loved this grass covered Mini. You'd definitely get attention driving that around town.
One of the main trends at Floriade was to focus on reducing, reusing and recycling within the home and this included some interesting design and decorating ideas.
Using espaliered trees was also popular and is a great way to save space if you only have a small garden.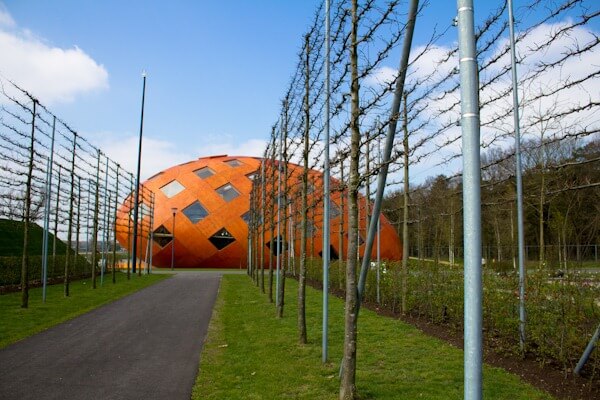 If you time your visit right you can watch some cooking displays using fresh, local ingredients. Of course, I didn't time it right but did get to see the beautiful looking fruit and vegetables on display. These white eggplants actually look like eggs!
Floriade is in a massive showground which takes quite some time to wander around. To get a quick overview of the grounds you can take a cable car ride from one end to the next which is well worth the €5 price tag.
Floriade wouldn't be much of a horticultural show if they didn't have some wonderful flower displays and not only can you see popular Dutch tulips and hyacinths there are also many unusual flowers on show like hippeastrums and orchids.
Food at Floriade
There are many places to stop and eat reasonably priced, healthy food, much of which is organic. For something a bit different head to the international area to try some street food from around the world. I had one of my favourite Dutch treats called poffertjes which are like little pancakes covered in melted butter and liberal amounts of icing sugar.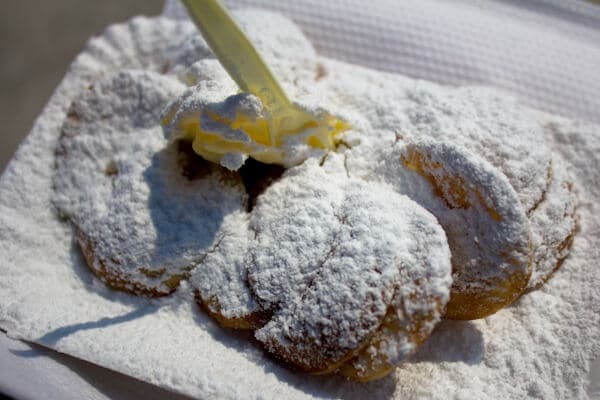 Then there were these freshly peeled and cut potatoes which were deep fried and salted. I don't know what they're called but I'd definitely recommend them.
Visiting Floriade in 2012
Floriade is located near Venlo in the Netherlands very close to the German border (near Cologne) and not far from Belgium. If you happen to be in the region, it's worth stopping by Floriade to spend the day discovering unique plants and design from around the world. It's particularly worthwhile if you have young kids who can learn about nature and play with the many interactive displays.
Floriade is open until the 7th October 2012.
Where to Stay
The closest town to Floriade is Venlo but I suggest staying in Arcen which is only a little further away. It's an adorable little town on the river with fantastic restaurants and bakeries which is exactly what you'll need after an exhausting day walking around Floriade.
Driving in the Netherlands
The Netherlands is an easy country to get around and driving from one city to the next doesn't take much time at all. Do watch out for cyclists when driving as the Dutch love to ride their bikes and they have right of way most of the time. The wide highways are toll free but petrol is 20-30 cents per litre more than neighbouring countries making it a relatively expensive place to drive.
0