The afternoon ritual in Germany of going out for coffee and cake is one I could easily get used to. In Dresden I sought out one of the oldest, most traditional cafes in the city for my afternoon treat, Grand Cafe Coselpalais, where they serve both French and German style cakes as well as light meals.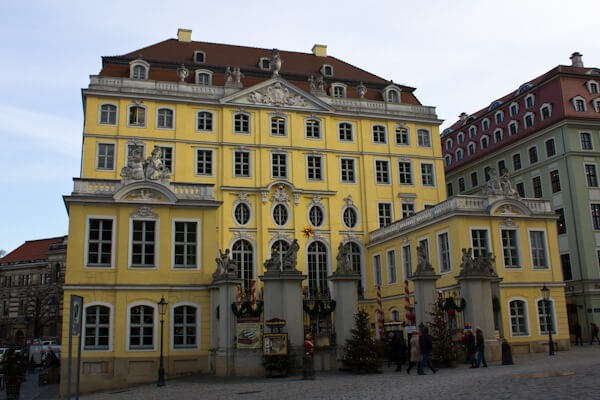 Grand Cafe Coselpalais in Dresden
Originally built in 1765, the building was destroyed during the infamous bombing of Dresden at the end of World War II. The building was left as rubble during GDR times and was eventually rebuilt in its original style after reunification. But it wasn't until 2000 when the famous Dresden cafe was finally reopened. I love the baroque style building and in summer you can sit out on the terrace and admire the beautiful Frauenkirche located just opposite.
As soon as you step through the entrance of Cafe Coselpalais you are presented with a huge glass showcase with cakes and desserts. This is the hard part. Do you want chocolate cake, vanilla, something fruity? In the end I went with a light yoghurt lime slice, the kind of thing I always choose.
Service was swift and my pretty (and delicious) dessert was served on Germany's famous Meissen porcelain which is produced not far from Dresden. The Meissen designs are old school but not too over the top. I went back to this cafe on a second trip to Dresden and even though the cafe was very busy I was still served promptly and again on the pretty plates.
I've always loved these kinds of coffee houses and this city has quite a few others but I don't think you can beat the atmosphere found at the Coselpalais in Dresden.
2