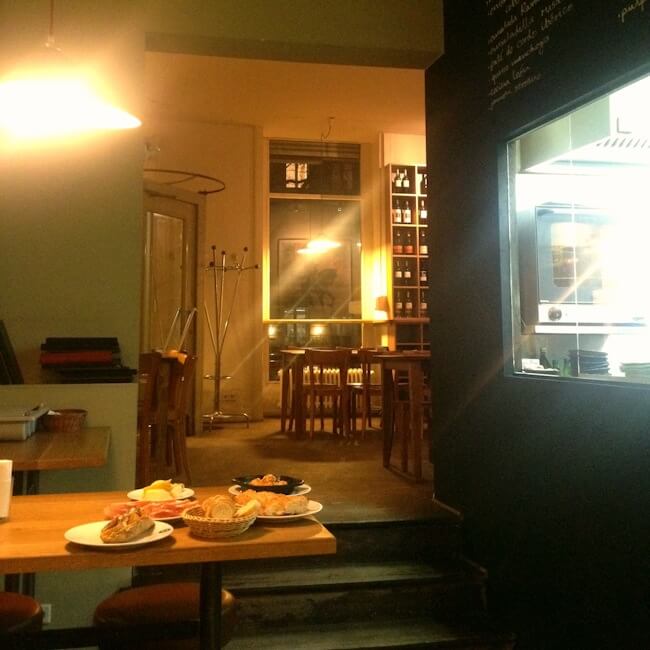 Walking into the warmly lit, timber decorated bar as plates of steaming tapas went by, I was immediately taken back to my time in Costa Brava. It's like a little bit of Spain had been transported to Berlin's trendy Kreuzberg district. Not that Bar Raval is a Catalonian tapas bar, the restaurant is run by Spaniards from all over Spain, but the welcoming glass of cava definitely had me thinking of the warm Catalonian summer.
Choosing which tapas to go for is never an easy decision as I want to try pretty much everything! So for a change I went with the recommendations on Foursquare. According to the tips, Bar Raval has the best patatas bravas anywhere. I like to consider myself a patatas bravas expert so of course that was the first thing I ordered and it was delectably good. Perfect fried potato with garlicky sauce and just enough spice to rouse my tastebuds. Was it the best patatas braves I've ever had? Yes, yes it was.
Next recommendation was the eggplant tempura with honey. Lightly battered and fried melt in your mouth eggplant with a drizzle of not too sweet honey sauce. Oh yeah. Yay for Foursquare. The organic garlic prawns were pretty tasty too.
My pick was the 'Pata Negra' tomato salad. This may just be a 'tomato salad' but after three months of tasteless tomatoes in Australia, it was fantastic to finally come across tomatoes packed with flavour brought out by the crunchy salt flakes sprinkled on top.
We had a private chef prepare a seafood paella for us in Besalu last year so I was interested to compare that with Bar Raval's paella. Bar Raval only prepare paella on the first Monday of the month so we were lucky to be there to try it. I must admit I'm not a huge seafood fan but it was definitely more flavoursome than the Catalonian version I tried and I'd be queuing up for a vegetarian paella if they ever do it.
Just as we were getting ready to leave we were presented with a chocolate fondant with icecream. We could hardly say no. If you're a chocolate lover, be sure to save room for this chocolatey goodness.
I really don't have anything bad to say about this meal. It was all delicious. Does Bar Raval make the best tapas in Berlin? I can't answer that but I loved every mouthful and would go back in a heartbeat.
0