As one of the coolest cities in Germany, the 70s retro themed 25hours Hotel is a perfect fit for Hamburg. Minimalist design, sleek curves and lots of space are abundant in what was one of the first design hotels in Hamburg. I was able to review both this hotel and their sister hotel in HafenCity and both have some interesting features which I loved.
My Review
After quickly checking in we passed through the living area on the way to our room. This is where you can sit and relax, play table tennis or put some music on the jukebox.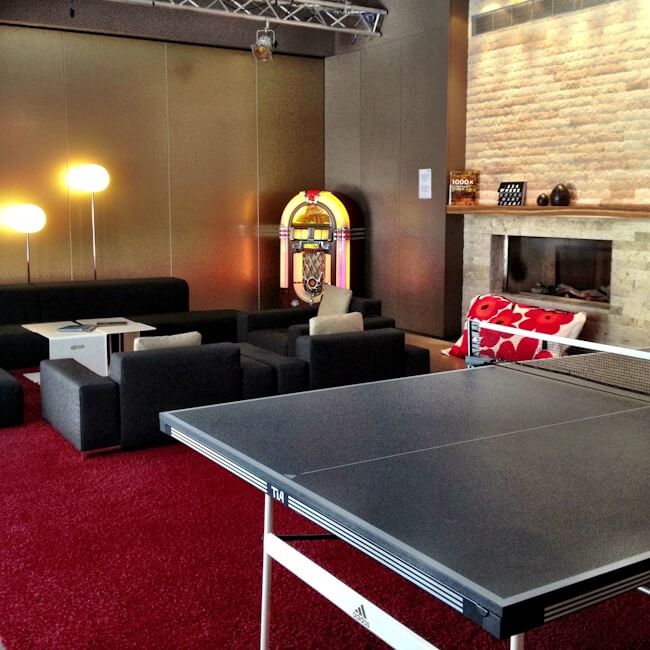 Design
The minimalist design runs throughout the hotel but each room is decorated slightly differently with some having a more noticeable retro theme than others.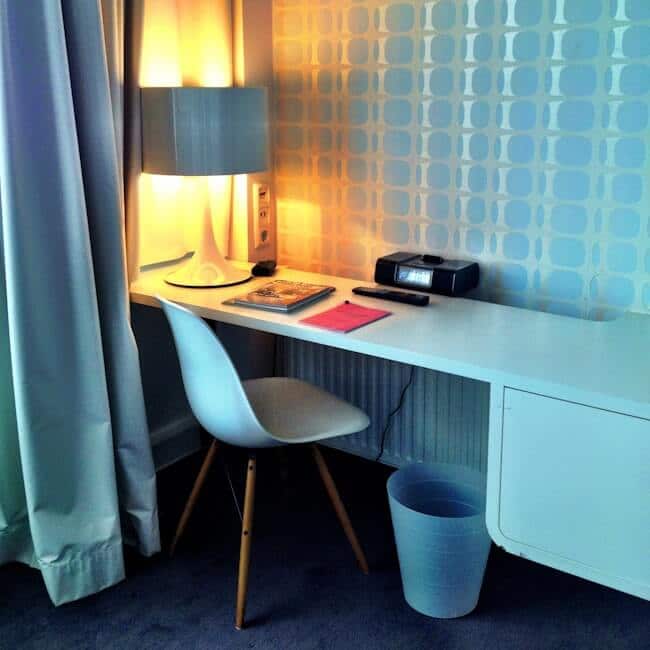 Room
There are a number of different sized rooms available and we got the XL room which totally lived up to its name. Rooms this size are not common in Europe and there was even enough room for a comfy bean bag. The iPhone docking station was also appreciated.
Bed
The extra large bed was firm and very comfy and having two pillows to choose from is always nice.
Bathroom
Clean and tidy with nice fluffy white towels, everything you'd expect in a design hotel.
Toiletries
I loved the locally made, natural Stop the Water While Using Me toiletries and it's nice having products in the hotel which come from suppliers based in Hamburg.
Hair Dryer
The bathroom has a proper hair dryer, not one of those useless attached to the wall things.
Wifi
Wifi is free and fast although their website says some rooms only have wired internet. Check when booking if that's a problem.
View
Our room was in the annex on the first floor so we didn't have much of a view.
Breakfast
Breakfast was a typical continental breakfast with some nice teas to choose from. If you can't get breakfast included in your room rate then I'd skip it and pick up breakfast from one of the nearby bakeries.
Gym
The hotel has a small gym with a treadmill, bike and a few other machines.
Location
The biggest let down at the 25hours No1 Hotel is the location. It is located in Altona in the west of the city. The nearest S-bahn station is a 10 minute walk and then it's a further 10 minutes on the train to Hamburg's central station. The location isn't a problem if you have a car as they have free parking and access to the city is easy but if you're relying on public transport it's not so convenient. However, it is worth noting that the hotel gives you access to their Mini car which you can borrow free of charge and drive around the city.
Price
Prices start at a very reasonable €110 per night and includes wifi and parking.
Would I Stay Again?
If I had my car and didn't need to be located in the centre of Hamburg then yes I would stay there again but I think the 25hours HafenCity is much more convenient for a city break in Hamburg.
Thanks to 25hours Hotel for hosting me in Hamburg.
0