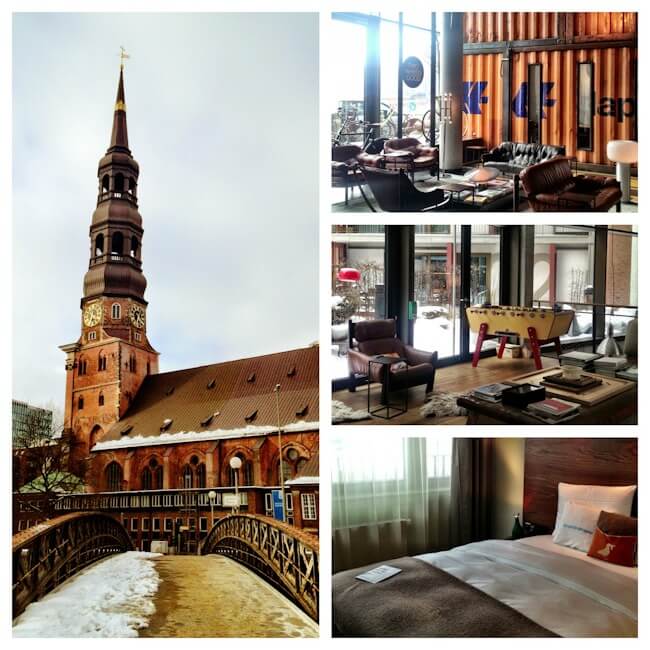 I was expecting signs of spring not -12C temperatures when I arrived in Hamburg. Unseasonably cold for mid-March I was repeatedly told. Knowing that didn't make it any more bearable. What did make it bearable was staying indoors so instead of spending hours exploring Hamburg's neighbourhoods, as I had planned, I went shopping, hung out in cafes drinking way to much tea and hot chocolate, and rested up in my hotel the 25hours Hotel HafenCity.
My Review
The 25hours Hotels are a unique group of boutique hotels focused on cool design, attention to detail and the HafenCity Hamburg hotel in particular is focused on working with local producers and using natural and organic products. I loved my stay there and it was a welcome retreat from the bitterly cold weather.
Design
The design is based on a wharf theme to fit into the surroundings of HafenCity and the port area. Every detail of the hotel was meticulously planned to fit with this idea including the fun use of shipping containers and crates.
Room
The room was a little on the small side but had some cool design features like using a crate for a desk and bespoke wallpaper to fit in with the wharf theme. The hot water bottle was an interesting touch but not necessarily practical.
Bed
The bed was firm and comfy with supportive pillows. Just how I like it.
Bathrobes and Slippers
None provided.
Bathroom
The bathroom continued the wharf theme with rounded porthole-like finishes. It was sleek and modern. My room had a shower and no bath.
Toiletries
The 25hours hotels in Hamburg use locally produced, lovely scented Stop the Water While Using Me natural hand soap, body wash and moisturiser. There were no other amenities provided.
Hair Dryer
The room has a proper sized hairdryer, not one of those weak stuck on the wall ones. Yay!
Coffee and Tea
There is free organic tea in the upstairs sitting room which they get from local provider Samova. This was definitely welcome after a cold day. I don't think there was free coffee available but you can get your coffee fix in the cafe on the ground floor.
Wifi
The wifi was free and speed was good.
View
I had a view overlooking the port which was very pretty when covered in snow.
Breakfast
Breakfast was by far my favourite thing about this 25hours hotel. It is one of the best hotel breakfasts I've had in years. I'd recommend the scrambled eggs and anything from the huge range of cheeses on offer.
Restaurant
We had lunch at the Heimat restaurant and went for the hamburger which they are known for. We did quite a bit of hamburger research while in Hamburg and this was the best we had.
Staff
I didn't have much contact with the staff but those I did speak to were friendly.
Location
There are two 25hours Hotels in Hamburg, Germany. This one is located in the new HafenCity district which is very modern and a little soulless but it's a growing area still under development so you can expect many changes over the coming years. It is a convenient location though as it's 5 minutes from Hamburg's main train station by taxi (6-7 euros) and a 2 minute walk to the Überseequartier U-bahn station on line U4.
Price
Rooms start at €125 and as much as I loved the breakfast I wouldn't pay €17 for it. Try to get breakfast included in your rate.
Would I Stay Again?
This stay was complimentary but I would definitely stay here again on my own, especially if I could get the delicious breakfast included for free. Another thing I loved but didn't get to try out is the free use of their Mini. You can take the car out for a spin around the city for up to 5 hours completely free of charge.
0